Fostering world class citizens – the challenge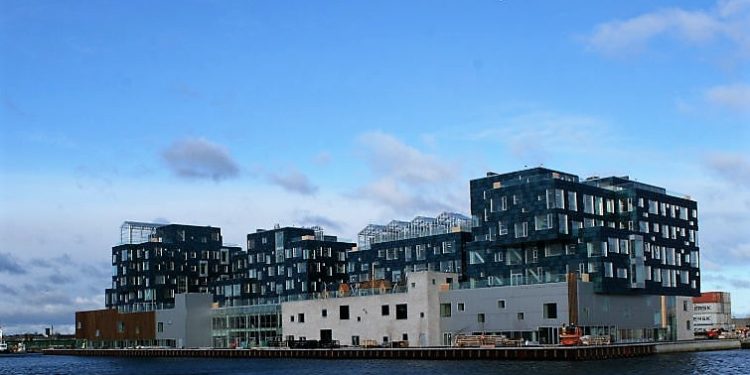 Finding a school which prepares your child for adult life can be challenging. Meet students from the Copenhagen International School Class of 2019 and find out more about the exceptional teaching environment offered here.
The article continues below.
Pictures and text by Claire Sinclair
Before returning to Copenhagen from the Middle East, when mentioning to our daughters' teachers that they would be transferring back to Copenhagen International School, we were told, "CIS has a new building! Did you know? It's going to be amazing!" And it is.
First-time visitors are taken aback by the blue glass immensity of the structure which sits on the seafront in the up-and-coming district of Nordhavn in north Copenhagen.
Opened in January 2017, it consists of four towers housing Early Years, Primary, Middle School and High School, which are connected by a large open area where Reception, the cafeteria and library are to be found.
There is a pleasant hubbub here as students, staff and parents come and go, enjoying the light which floods in through huge double-height windows overlooking the water.
The building is already iconic in Copenhagen and in the wider IB World School community and attracts visitors who are interested in learning more about the environmentally friendly aspects of its construction and its sustainability.
Copenhagen International School has almost one thousand students from over eighty countries, staff from over fifty and, having celebrated its fiftieth anniversary a couple of years ago, is one of the oldest IB World Schools. Teaching staff are managed by Director Jennifer Weyburn, who came from China in 2016, and by Primary, Middle and High School Principals, all of whom are visible and approachable by students and parents.
The school follows the International Baccalaureate system, offering Primary Years and Middle Years Programmes; Copenhagen International School, like other IB World Schools, works hard to ensure that, when students leave, their transition into other IB World Schools is as seamless as possible.
The American High School Diploma and the IB Diploma Programme are offered to students in Grades 11 and 12; the Diploma Programme is recognised and respected by higher education institutions all over the world.
It is an academically rigorous qualification and Diploma Programme students work extremely hard, supported by exceptional teaching staff.
On a cold, grey day in February, I take the elevator up to the sixth floor of the High School tower to meet with four students who are currently in the midst of their second and final year of the IB Diploma Programme.
As I wait for them to finish their afternoon classes, I admire wooden floors and calm white walls and look through windows which give a bird's eye view out to sea and over the city, wondering what it must be like to come here every day, to learn in modern, minimalist, beautiful surroundings.
At 3.30pm a stream of young men and women enter the communal area to gather their bags and sports kit, chatting quietly as they put on their coats. Some flop on comfortable couches and close their eyes while others laugh and joke, clearly enjoying one another's company.
Four girls join me in a small glass-walled meeting room and, while an extra math class takes place next door, we sit down to talk over coffee and cake.
What strikes me first is their confidence, their self-possession and the international accent that all the students have, which is almost, but not quite, North American.
I ask them to tell me a little about themselves and they have a great range of experience. Anna is Danish, Iranian and American, is eighteen years old and has lived in Denmark for fifteen years. She tells me that she has been at Copenhagen International School since Kindergarten.
Abby is from Kenya. She is also eighteen and lived in Kenya and Bangladesh before arriving in Copenhagen five years ago when she went into Grade 8.
Hannah is seventeen, from Scotland and has lived in Scotland, Denmark and Qatar; she has had the unusual experience of leaving Copenhagen International School in Primary and returning in Grade 10.
Renée is eighteen and from New Jersey in the United States. She has had the shortest time in Copenhagen having arrived in November of Grade 10.
I ask what it was like to transfer to a new school in the middle of the year. "It was dark," she laughs.
The others look sympathetic, as it's generally accepted that it is difficult for children to change schools mid-year, especially as they get older. She goes on, "It was a lot better after the winter break because we were in the new campus and there was the cafeteria and the gym."
Copenhagen International School moved into the new building in January 2017 and in addition to a cafeteria, there are three full-sized gymnasia, a small one for the Early Years department, a weights room with stationary bikes and a theatre used for productions by the Drama department.
What about making friends, I ask? Do you think it's easier if you move a lot? The girls agree that it is, and the school assigns buddies to new students who help with introductions and navigating the hallways. (In fact, the very active Parent Teacher Association has a committee of parents that helps new families in the same way.)
Anna has been at the school since Kindergarten and has seen many friends come and go. How has that been for her?
"I think it has been difficult, but I've learned that just because someone moves away, it doesn't mean you're never going to see them again." The digital world makes keeping in touch with friends easier than ever, and these students think nothing of travelling thousands of miles for holidays and family gatherings.
I wonder how the others felt about moving to Denmark, and Abby and Hannah agree that they were excited because they were both living in countries with conservative societies.
Hannah says, "I was glad to move here as I knew that Denmark is very open and very liberal compared to Qatar."
The girls go on to discuss their independence and how it compares favourably with friends' experiences elsewhere. Children and young people commonly use public transport unaccompanied, and it is extensive and reliable; the new metro line to Nordhavn is under construction, with a stop at Copenhagen International School already visible. The line should be complete in 2020 and will reduce traffic further in the district.
But many students and staff cycle to school, which is encouraged as a healthy and sustainable choice; the city is famous for its bicycle lanes which make it safe and easy to get around.
Abby says, "Here we can be independent, and I think it prepares us for university and for living on our own."
Most students in Grade 12 have applied to university, while some are planning to take a gap year and go on to further education in 2020. This is an exciting time as offers have been landing in in-boxes for a couple of months now.
All the girls are going to college in September and, like most of their peers, they have applied to a variety of universities in the United States, United Kingdom and Europe, although there are always some hoping to go further afield.
The fact that every year there are students from Copenhagen International School applying to Oxbridge and Ivy League universities is testament to both the high standard of teaching at the school and the rigour of the Diploma Programme.
University admission generally depends upon the total number of points achieved, which is a made up of the results in three Higher Level subjects, three Standard Level subjects, plus points from Theory of Knowledge and the Extended Essay, which all students undertake; the maximum achievable is forty-five.
The girls are modest and self-effacing but are clearly ambitious. Renée is planning to study chemical engineering in the United States whilst Anna hopes to study Social Anthropology in either the United States or United Kingdom, "I'm going to wait and see where I get in and then make the decision," she shrugs coolly.
Abby and Hannah have both applied to British universities, Abby to study Law, and Hannah Business and International Relations. With eighty percent of the result in each subject achieved in examinations, which will be held in May, they are understandably a little nervous when I ask if they feel ready. They think they will be.
Their teachers are supportive, and all have overcome challenges along the way that will stand them in good stead later. I ask what they mean.
Abby says,
"My first challenge is finding a balance between work and having time for myself, my family and friends, and the second is learning not to be too hard on myself if I don't reach the standards, I set for myself."
There are nods of agreement around the table. The students have a heavy workload, and all are aware that balance is good for both their physical and mental well-being. Hannah mentions that there is quite a competitive atmosphere, encouraged by teachers who clearly see this as a way of challenging students to strive for high standards.
I get the impression that these students cope well with this. The International Baccalaureate programme encourages independent learning, fostering self-reliance and self-management, which paves the way for an easy transition to university study. This, combined with the international outlook which all students have, creates young people with an open and inclusive mindset, who are ready to go on to the next phase in their lives confidently.
I observe that almost everything is done, almost all the assignments are submitted, just two more. The examinations will be held in May, the award ceremony and traditional Danish truck ride on June 3rd and graduation on June 7th. The end of their school career is in sight and their excitement is infectious.
Renée sums it up perfectly, "People will say – April 12th, you guys are done! Nope! That's game time, that's when you really have to rev it up!"
These young women, these world citizens, will be amazing.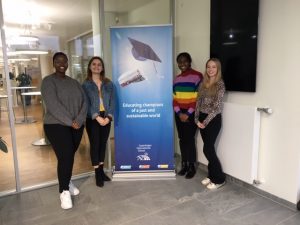 This article was written in collaboration with the Copenhagen International School, many thanks to the students of Grade 12, who participated in the interview. You can find more information at www.cis.dk