Gang related violence – again several visitation zones in Nørrebro/Nordvest and Brønshøj districts in Copenhagen are in place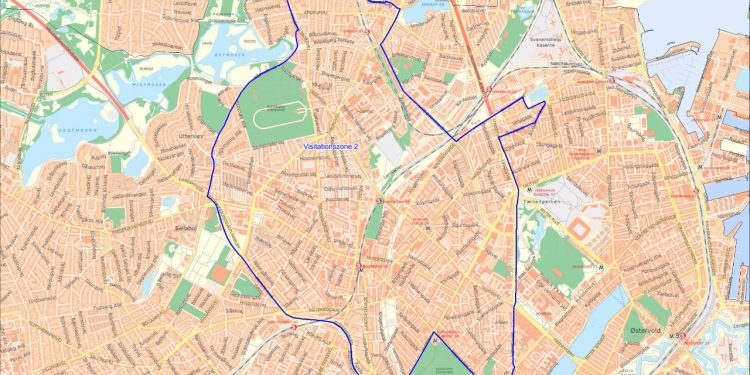 Gangs are fighting for control and after a shooting episode last week, two visitation zones were put in place on 17 November in Copenhagen.
The article continues below.
By Bente D. Knudsen    Picture: Københavns Politi
"We take no chances with public security," Danish police says in a press releas, and after the shooting incident this week in Copenhagen's Nordvest quartier and several other violent episodes the past week, setting up zones with special control measures, the so-called the visitation zones, have again been put in place.
In 2018 and 2019 the measure was used repeatedly after violent episodes between two gangs fighting for control.
We will not accept that the conflict between the two gangs is allowed to develop further, therefore we have taken the measure to use visitation zones again to make sure that our citizens can be safe and that no-one is able to walk around carrying weapons. Other than that, we will also be present and patrol the affected areas intensively",  Police Director, Anne Tønnes, says in a press release.
The visitation zones are established in parts of inner Nørrebro, Brønshøj and the Copenhagen district of NV (Nordvest) and run from 17 November until 1 December at 18:00.
Find out what it means below.
A visitation zone means that the police can stop people on the street, on their bicycles or in their cars to check their possessions, search their bags and even a body search, if needed, may be done.
Under normal circumstances they are not allowed to do so randomly but must have a "reasonable suspicion".
The Copenhagen Police's visitation zones cover two areas:
Zone 1
Ruten – Åkandevej – Kildebrøndevej – Smørumvej – Veksøvej – Stenløsevej – Islevhusvej – Marbjergvej – Mørkhøjvej – grønt område langs kredsgrænsen – Hillerødmotorvejen – Ruten.
Zone 2
Nørrebrogade – Jagtvej – Ågade – Bispeengbuen – Borups Allé – Hareskovvej – Utterslevvej – Rådvadsvej – Frederiksborgvej – Rødkløvervej – via stier syd for kredsgrænsen – Lundedalsvej – Tuborgvej – Lersø Parkallé – Rovsingsgade – Hans Knudsens Plads – Borgervænget via cykelsti til – Vognmandsmarken – Bryggervangen – Omøgade – Lyngbyvej – Nørre Allé – Sankt Hans Torv – Fælledvej til Nørrebrogade.
The aim of the visitation zone is to meet the local population's safety and security concerns by ensuring that people in the area do not carry or possess weapons.
According to the polic,e the visitation zones are effective measures in the police's efforts to remove weapons from the streets.
Knives not allowed in the visitation zone – find out more below.
If you are not yet aware of it, then take note not to bring even a small pocket knife when you are in the visitation zone area.
Also in public areas, at any time, small pocket knives such as those used with a bottle opener  below 7 cm are only allowed if they can be said to have a valid reason for being in your possession,for instance you are going on a picnic.
In general you are not allowed to carry knives in a public area.
Even small pocket knives, below 7 cm,  are not allowed when you go out during the evening to a nightclub, restaurant, coffee house or any other public area during the night, what the Danish police call "generelt knivforbud i nattelivet".
Support our magazine with a contribution of any size
We hope that you enjoy the information, insights and inspiration that we provide. We are a small team and we would like to keep delivering high quality, interesting articles for you to enjoy and your support will help Your Danish Life to continue to produce relevant content for expats in Denmark.
We do not want to put up a pay-wall, so we need your support and if you find our content relevant and worthwhile, we would value any contribution, however big or small, as a token of your appreciation of our efforts.
How to support:
Transfer any contribution to our bank account at: Your Danish Life/ Danish Expat Media Aps
Danske Bank Account number: 3409 11405673
IBAN: DK68 3000 0011 4056 73
or MobilePay to 2144 1224
Message: Support