Gløgg – take the shortcut or make your own from scratch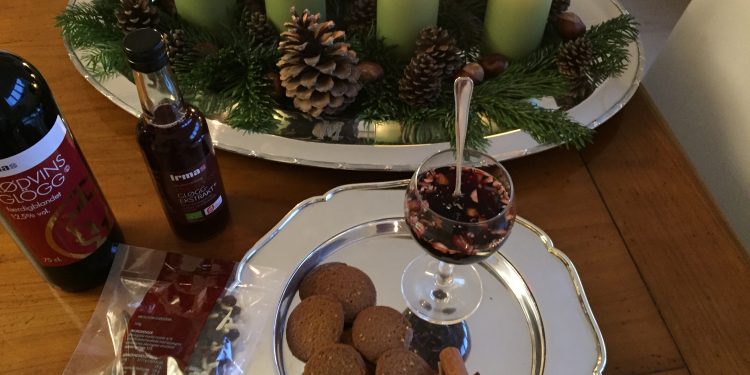 On a cold winter day, a glass of hot glögg  to warm you up is great. If you think Danes only make it from scratch you are mistaken. An easy to make solution is often employed.
By Bente D. Knudsen
The article continues below.
Every Nordic country has its own version of hot mulled wine, and therefore Danes are not the ones with the final recipe for it.
However, a range of Danish chef's have developed their personal variation of the traditional one, and if you open any Danish magazine the coming weeks  you are bound to find this year's variation of a traditional recipe in them.
Most ingredients are of course; red wine, some form of alcohol, different kind of spices – with a guarantee of finding cinnamon in most, as well as of course chopped almonds and raisins.
However, contrary to general belief, a lot of Danes cheat. They simply buy the ready made glögg, or they buy ready made ingredients. So either they just have to warm it up, or at most, mix in the ingredients.
The article continues below.
You can find the ready to mix gløgg or the ready made gløgg in most supermarkets. You need to look for:
Færdigblandet Gløgg/ Rødvins Gløgg : this is the ready made one. They will not contain chopped nuts and raisins – those you can buy in ready to pour bags of gløgg mix(chopped almonds and raisins),  or you can chop almonds and buy raisins to add in yourself – at a much lower cost of course.
Gløgg ekstrakt : this is the ready made spice mixture. All you need now is a bottle of red wine, a bag of gløgg mix – or again just chopping your own nuts and adding in raisins.
Gløgg mix : ready to pour bags of chopped almonds and raisins
In both cases; they recommend adding the gløgg mix, or your own chopped almonds and raisins, to the gløgg while it warms up – as the raisins and nuts will soak up gløgg- thus becoming more tasty.
If you mix it all together the day before it gets even more tasty and spicy!
The article continues below.
You can of course also make it from scratch.
This recipe for home made gløgg is from Claus Meyer, co-founder of the famous Danish restaurant Noma. He shares his recipe for this warm (and strong) alcoholic drink.
The recipe was also brought in the cookbook Eat Smart in Denmark – which Your Danish Life has the permission to reprint.
You can read more about the cookbook Eat Smart in Denmark in our article here.
Claus Meyer's take on Gløgg:
1 heaping tablespoon whole cloves
2 tablespoons cardamom seeds, coarsely crushed
2 sticks of cinnamon
¼ of a nutmeg, coarsely grated
peel of one orange, preferably organic
juice of 3 oranges, preferably organic
juice and peel of 1 lemon, preferably organic
1 small piece fresh ginger, cut into 3 1-centimeter cubes
2 cups cane sugar, preferable organic
⅓ cup of raisins, chopped
4 tablespoons bitter orange peel*
4 bay leaves
2 teaspoons whole black pepper
1 tablespoon whole allspice
4 0.75-litre bottles of strong red wine
2 cups of red port
3 cups of dark rum
1¼ cups of Danish snaps (aquavit), preferably Aalborg Brøndums†
raisins and slivered almonds for garnish
Combine all the ingredients, except the snaps and garnish, in a stockpot with a tight-fitting lid. Heat to 200 degrees Celsius and simmer for an hour, making sure the glögg does not come to a boil as this would de-alcoholise the mixture. Allow the glögg to steep at room temperature for 24 hours, then strain to remove the solids.
To serve, warm the glögg to 65 degrees Celsius and add the snaps. Serve immediately, topped with raisins and slivered almonds. (If you wish, you may soak the raisins in a little snaps an hour before serving.) For a sweeter glögg, add a bit more sugar.
*Use the peel of a fresh Seville orange or other bitter orange. Bitter orange peel also can be purchased dried in specialty shops, or from home brewing supply companies.
†Vodka may be substituted if snaps is not available.
Enjoy and remember to go easy as the sweet taste disguises the alcohol!