How can a small Danish museum get hold of world famous Monet pictures?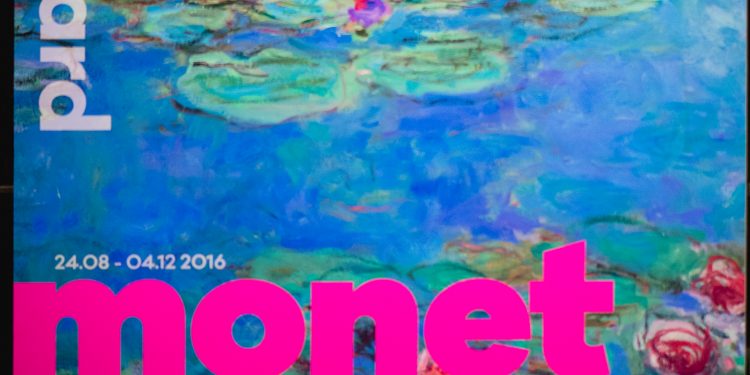 Report from the opening of the exhibition, Monet. Beyond Impressionism, by Crown Princess Mary and the French Ambassador to Denmark, Mr. Francois Zimeray. Visualised by our photographer Mayra Navarrete.
By Bente D. Knudsen Pictures: Mayra Navarrete.
Intrigued by the amount of beautiful paintings (46 in total) by the world's probably most famous artist, and the largest amount ever presented in the Nordic area, suddenly collected under the roof of a rather unknown private museum in Ordrup, 8 km outside Copenhagen, I cannot help asking the question.
Someone must have asked before, as the answer is ready at hand – and no hard feelings expressed at it. Ordrupgaard Museum's press officer, Mille Steffen-Nielsen, explains that it has taken more than three years to organise, and is the result of countless give and takes in the museum world. Fortunately, Ordrupgaard has its own small collection of famous impressionist artists.
"Our pieces are sometimes lent out to other museums for their special exhibits and so it becomes a – 'you borrowed this can we now borrow that' in order to get the pieces we need," Mille explains. The security surrounding such an exhibit is enormous, and at the official opening with the Crown Princess present even more so. However, it is the still the usual relaxed Danish style and thank you, no scanners and rigorous bag checks – yet. "We think they are there mostly because of Monet," the press officer twinkles.




Upon sight, a bottle is confiscated by a guard from one of the other journalists' small lady handbag – as though the reporter would damage one of the paintings – and the guard laconically sighs, " I know! But we can't make a difference – the security and demands of the insurance companies are the highest and most restricted we have ever faced."
The exhibition, Monet. Beyond impressionism, is the tale of Monet's gradual journey from being the creator of impressionism to becoming more abstract, freer and closer to modern art in his last paintings, the famous water lilies. In 1874, when Monet exhibits the painting, Impression – soleil levant, (Impression –sunrise) this led to the name of the new form of painting, Impressionism, represented not only by Monet but also by Edgar Degas, Pissarro, Sisley and Renoir.
Many have of course seen his famous paintings in Paris, New York or London. However, seeing them here in Denmark is a unique opportunity to get up close to his masterpieces of which half have never been exhibited in Denmark before. The museum is expecting a crowd and have extended their opening hours massively as well as provided a new online ticket sale system in order to reduce queuing. If you can 'maybe try coming on a weekday around noon', the press officer advises tentatively.
Alternatively, gather a group of friends for an after hour tour at DKK 1,975 plus admission of 100 DKK/per person (group price, the normal price is DKK 110). Notice that your children up to 18 are still FREE – and the museum has created a sensory room, Monet's magical garden, where the artist's beloved garden is creatively recreated so that children can see, smell, and touch, their way through his treasured and much painted landscape.
The Crown Princess arrives and we follow along her visit through the rooms of the exhibit, wondering how she can manage to concentrate on the beautiful paintings with all the eyes and cameras fixed on her. But she does, and she is so in awe of the water lilies, she cannot help wishing and expressing to the French ambassador to Denmark, Mr. Francois Zimerary, who is, of course, also present during the tour; "Wouldn't it be nice to have one in your own house – it would make you smile every day," she says with a twinkle in her eyes.
The water lilies are featured on the exhibit poster – so at least this way we can get a small piece of Monet with us home!
Running from 24 August until 4 December 2016 at Ordupggaard, Vilvordevej 110, 2920 Charlottenlund. More info at: ordrupgaard.dk