In Search of the Best Brunch Spots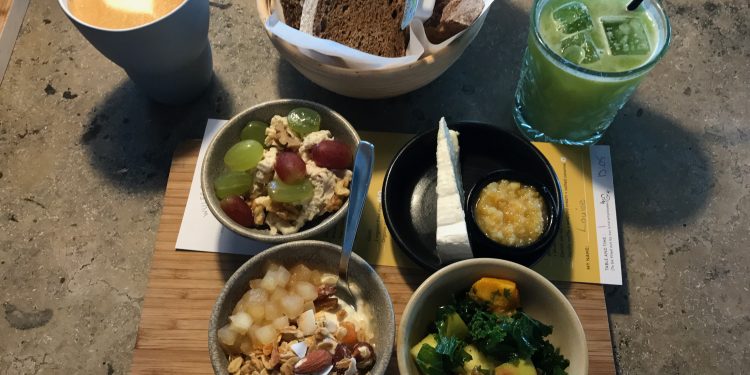 There are plenty of places to enjoy the most relaxed, sociable meal of the week, both in the Danish capital and further afield. Here is our guide to some of the best.
The article continues below.
Text and pictures by Louise Chamberlain
A happy collision between breakfast and lunch, the word "brunch" first appeared in print in an 1895 Hunter's Weekly article.
The British author, Guy Beringer, wrote:
"Brunch is cheerful, sociable and inciting. It is talk compelling. It puts you in a good temper, it makes you satisfied with yourself and your fellow beings, it sweeps away the worries and cobwebs of the week."
What other reasons do you need to seek out the best brunch spots in Denmark?
The article continues below.
Copenhagen has a multitude and wide selection of eateries offering brunch. They vary in quality and price,  find here the ones in our selection.
While many restaurants favour the brunch buffet, Wulff og Konstali is the birthplace of the "build your own" approach to brunch. You choose from a selection of 21 different dishes including croissants, eggs, cheese, smoked salmon and fresh fruit (five dishes, seven if you are very hungry) to design your perfect platter.
The menu changes to reflect the changing seasons. The bread is arguably the best in town and the interior is stylish and contemporary. The original Wulff og Konstali is in Amager but they have recently opened another branch north of Copenhagen in the Waterfront shopping centre in Hellerup.
If possible, try to go outside of peak times as it's not possible to make a table reservation. Weekends can get crowded.
On the lakes in Østerbro, Café Livingstone follows the same "build your own" concept. It offers a slightly wider selection and has a great choice of vegetarian dishes. There is a real international flavour as the menu takes inspiration from the owners' travels around the world.
All of the plates, cups, bowls and dishes have been made specially for the café in a small pottery workshop in Bali. It's a very busy place and booking a table is recommended.
The article continues below.
Mad og Kaffe opened in Vesterbro in 2015 and is one of the most popular brunch spots in town. It's informal and cozy with a laidback vibe. The brunch menu is called morgenbræt and features simple, reliable dishes such as cinnamon buns, cheese, scrambled eggs and fresh bread.
Choose three, five or seven dishes to create your perfect brunch. It's not possible to make a reservation for brunch but the restaurant seats 60 inside and a further 30 outside and they aim to make sure that no-one waits too long for a table. They have also opened two sister restaurants in Frederiksberg and on Amagerbro.
Located in the Danish Film Institute, Restaurant Sult is an elegant and stylish choice for a pleasant brunch a stone's throw from Norreport station, next to Kongens Have. The buffet brunch is a fixed price (with reduced rates for children) based on consuming as much as you like over a two-hour period. There are three sittings.
Choose the third sitting (14.00-16.00) if you have a sweet tooth as this is the only one featuring the famous cake table. Coffee, tea and juice are included in the price. There is an extensive selection and much of the food is organic.
Restaurant Sult is a great choice for anyone following a lactose or gluten-free diet as there are plenty of suitable dishes to choose from. Although the restaurant seats 300, the brunch buffet is very popular so it would be wise to make a reservation. Brunch is only served on weekends and again, you won't be alone.
For brunch with an unparalleled view, Toldboden is hard to beat. Situated in the old ferry terminal in Copenhagen harbour, it's a popular waterside hangout. There is extensive outdoor seating (great during the summer) as well as a large, airy restaurant with wonderful harbour views.
The brunch buffet, served only during weekends, is a lavish affair with a focus on grilled meats. Handmade sausages, BBQ ribs, grilled pork and chilli con carne make this a delight for carnivores. The buffet also offers traditional favourites like scrambled eggs, bacon, cheese and yogurt with muesli. A selection of drinks are included in the price.
The article continues below.
Århus
Café Faust is centrally located alongside the canal. The patio heaters make sitting outdoors pleasant even on slightly chilly days. It's a great spot for people-watching. There are three brunches to choose from; "the one", "the other" and "the healthy". The first two are variations on the traditional Danish brunch. The latter is based on the concept of a paleo diet. All three contain meat so this is not the best choice for vegetarians but committed carnivores will love it.
In the heart of the Latin Quarter is a neighbourhood favourite: Mefisto. Here the brunch is served as a sharing platter. Each platter contains seven tasty dishes and a selection of bread. The seven dishes are a fixed menu, so it lacks flexibility if you are dining with fussy eaters, but the selection is always innovative. Instead of the usual bacon and scrambled eggs, you'll be tempted by more interesting dishes such as lobster croquette and lightly smoked cod. The menu changes six to eight times per year so that the food is always the best it can be and seasonal.
The article continues below.
Odense
Enjoying a lovely view over the water, Restaurant Nordatlanten serves a traditional brunch buffet with a modern twist. Alongside the scrambled eggs, sausages and bacon, you'll find delights such as paté with pickled beets and duck confit with cranberries. The price includes two hours at the buffet table, coffee, tea, juice, smoothies as well as three shots of Danish bitters. It's understandably popular so booking is recommended.
With so many great lunch spots to choose from, finding somewhere to enjoy laid back weekend food with friends is easy in Denmark.