Madam Blå – anything but blue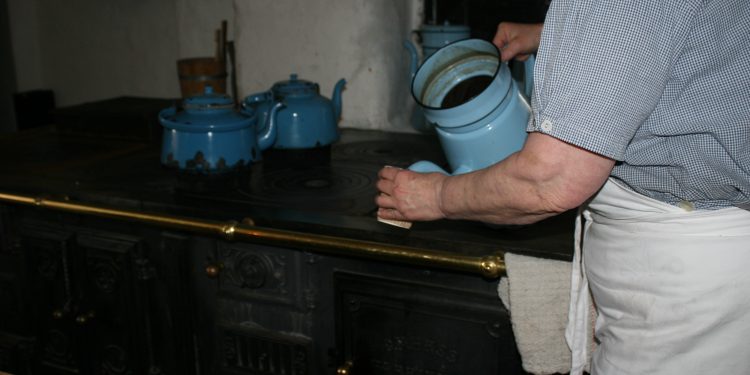 Forget iconic brands such as Royal Copenhagen, Georg Jensen, Kähler and the like. The one true iconic Danish brand is Madam Blue – Madam Blå, and yes she is always BLUE.
The article continues below.
By Stine Rosengren
She is so famous and such a house brand, that she even has a poem dedicated to her:
She is blue as a kind summer sky
She has broad hips
She can make anyone feel fresh with her precious drops
She survived both world wars
Let me introduce you to Madame Blue
The coffee pot, Madam Blå, had its most popular days between 1900 and 1966.
It was part of a larger enamelled kitchenware series manufactured by the Danish company Glud Marstrand and was by far the most famous product the firm produced. But it also created other kitchen utensils in the characteristic blue colour such as bowls, pots, spoons and measuring jugs.
In my grandparents' home the whole kitchen was equipped in blue.
Madam Blå came in 18 different sizes ranging from one to 50 coffee cups. The coffee was made in the pot and could be left on the stove for the whole day "ready-made".
In the more upper-class homes, whenever coffee was called for, it would be poured immediately into a finer porcelain pot ( maybe from Royal Copenhagen?) before being sent up to the living rooms.
In these finer homes Madam Blå usually stayed in the kitchen, but in a working class home, she would also be used for serving in the drawing room.
Up until World War II more than 1,000 pots were produced a day; 200,000 on a yearly basis.
As war erupted it became more and more difficult to buy the materials needed to produce the blue pots and pans. Sales tumbled, and even though there was a slight recovery after the war, production was finally shut down in November 1966.
This inspired the Danish newspaper Politiken to place a long obituary in honour of Madam Blå's decease ending with the words: "Glory to Madam Blå's memory. For it is not just her end we experience… it is the end of a piece of valuable Danish cultural history. "
Since then Madam Blå has become a piece of nostalgia , a remembrance of times long past, and in a few restaurants it is used to serve coffee with your cake.
Most often you can find Madam Blå and other parts of the blue kitchenware as decorations on the walls of Danish kitchens.
The world's largest Madam Blå coffee pot stands in Viborg at the wholesaler Peter Larsen Coffee, who uses the pot as a brand.
The coffee pot, with its height of 4.96 meters and 1.2 tonnes, is recorded in the Guinness Book of Records as the world's largest coffee pot.
At the delightful old seaside hotel Dyvig Badehotel – coffee is of course served in Madam Blue!