Midsummer dream in Copenhagen – free performance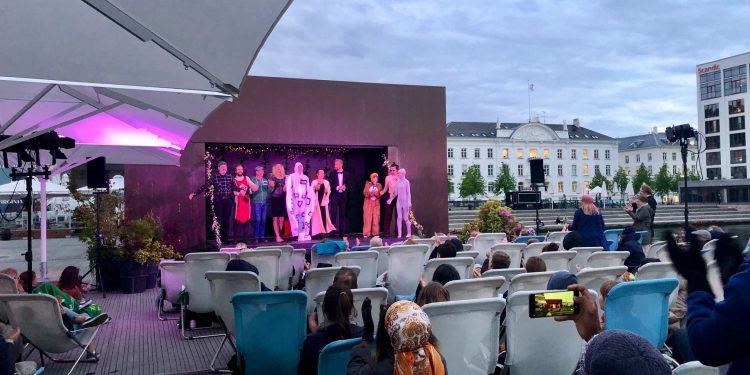 If you are in Copenhagen, why not visit Ofelia Plads today and tomorrow for a brilliant performance of Shakespeare's Midsummer Night's Dream, presented by After Hours Theatre Company and Det Kongelige Theatre.
The article continues below.
By Sehrish Haq   Picture: Katrine Juhl Seier/ Facebook page A Midsummer Night's Dream
This Shakespeare's comedy is about four lovers; Hermia, Helena, Lysander, and Demetrius.
The Duke of Athens wants Hermia to marry Demetrius, but she is in love with Lysander. Hermia and Lysander plan to elope to the forest so they can be together. When Helena finds out about this plan, she tell Demetrius in hopes he will fall in love with her and forget about Hermia.
In the forest the fairies are having a squabble which ends up affecting the humans.
The most enjoyable part of Midsummer Night's Dream is the last scene when the "Rude Mechanicals" get to perform their play within the play after all the chaos has ended.
After Hours Theatre Compay has done a marvellous job with its minimalist set and costumes, proving that talented actors is all you need for a play to do justice to the Bard.
The play starts at 20:00 today at CPH Stage, at Ofelia Plads and is free to watch.
Just remember to wear warm clothes and get there a bit early to secure a seat. Food and drinks can be purchased on site.
The play is performed in English. Check their Facebook page, as they may cancel it rains heavily.
The article continues below.
Thomas Magnussen (Director)
Lars Mikkelsen (Consultant)
Angelique Giroir (Stage Manager)
Cast:
Jefferson Bond (Actor)
Ian Burns (Actor)
Linda Elvira (Actor)
Søren Højen (Actor)
Alexandra Jespersen (Actor)
Kevin Kiernan-Molloy (Actor)
Rasmus Emil Mortensen (Actor)
Thea Schok (Actor)
Benjamin Stender (Actor)
PLAYTIME:
Thursday, May 30 at. 20:00
Friday, May 31 at. 20:00