More action this weekend with the Swoop Freestyle World Championships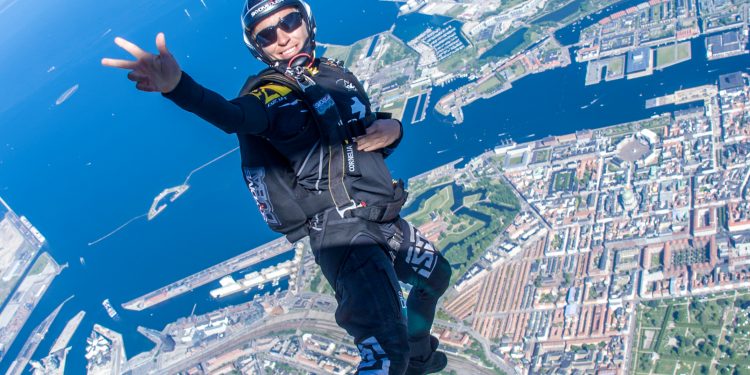 If you are into action filled drama, then check out the lakes in Copehagen 24 and 25 August when the paragliders come sailing down from the sky above Copenhagen to land with precision in the middle of Peblingesøen next to the Brige Queen Louise.
The article continues below.
By Bente D. Knudsen  Pictures: PR SFWC/MN/MH
For only the second time the Swoop Freestyle FAI World Championships take place at Peblingesøen in the Copenhagen city center.
The Copenhagen stop is the first leg of the world championships and they bring with them two days of action and events.
There will be training and Swoop Night Lights on the 24 August with qualifying and finals on 25 August.
You will find 18 participating parachute pilots from 12 different countries all ready for the dramatic jump over Copenhagen city to land in Peblinge Lake right next to Queen Louise's Bridge in Copenhagen.
The article continues below.
On the 24 August from about 17:00 it all starts as the flag will come flying down to open the event. Then different training sessions will start and there will be music and entertainment until around 21:45 when lights will illuminate the area.
On 25 August the main paragliding events take place at from 12:30 until 18:00.
Entertainment will be provided with water based and land based activities as well as live musical acts. All for free!
A popular event, so you won't be alone – and let us hope the weather holds as it is more fun to watch when the sun shines.
The program is:
24 August:
16.35-16.45: Royal Life Guards
16.45-16.55: Flag Jump
17.00-19.00: Training, Round 1 & 2
19.00-20.00: Athlete Meet & Greet
19.05-19.35: Live music: Rosegold & Copenhagen Drummers
19.35-19.40: Aviation: KZ-7 Plane
19.40-19.50: Aviation: UL Planes
19.50-20.05: Powered Paragliding
20.05-20.30: Acro Paragliding
20.30-21.00: Live music: Pastell & DJ
21.00-21.45: Night Lights w/ Copenhagen Drummers
25 August
12.00-12.30: Live music: Delahoia & Olivio
12.30-12.40: Powered Paragliding
12:40-12.55: Aviation: RVator Planes
13.00-15.00: Qualifying, Round 1 & 2
15.05-15.20: Paragliding
15.20-15.50: Live music: Alexander Oscar & Hugo Jr.
15.50-16.00: Wingsuiting
16.00-17.55: Finals, Round 1 & 2
17.55-18.00: Award ceremony
18.00-18.05: Flag Jump
18.00-19.00: Athlete Meet & Greet