More disruption of the S-train traffic could be in store this afternoon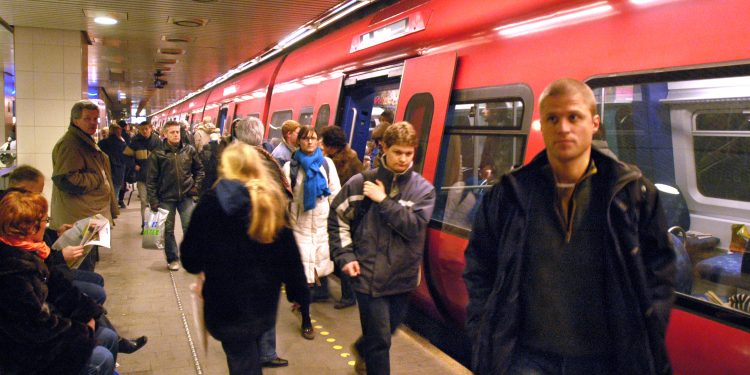 Monday morning's illegal strike amongst train conductors on the S-train lines could repeat itself this afternoon the Danish Rail Union (Dansk Jernbaneforbund) warns.
The article continues below.
By Bente D. Knudsen  Picture: René Stranbygaard
Normally, in Denmark, strikes are announced in good time to enable the business or institution affected to warn its customers and try to put in place a plan for such a "force majeure" situation.
However, the action by the train conductors Monday morning were not sanctioned by the union organising the train conductors, Dansk Jernbaneforbund. The unplanned strike was a work related meeting held by the train conductors due to the actual negotiations taking place between their union Dansk Jernbaneforbund, and their employer DSB.
Rumours of renewed illegal strikes this afternoon at 16:00 and 20:00 due to more meetings are in circulation, strikes which could potentially create renewed chaos as commuters start on their homebound journeys starting off the afternoon rush hour.
The union of the train conductors has therefore issued a statement on their Facebook page, warning the train conductors NOT to attend more meetings.
"From the part of the union, Dansk Jernbaneforbund, we would like to make clear that all kinds of illegal work-related conflicts must stop. We have been made aware that there are two postings in circulation referring to more meetings (Editor's note: of the train conductors) later today. We strongly advise that these meeting are NOT to take place."
The article continues below.
The reason for these "work related meetings" of the train conductors is the ongoing conflict between the train conductors' union, Dansk Jernbaneforbund and their employer, DSB.
DSB has announced that it wants to reduce the number of union representatives ( in Danish Tillidsrepresentanter) from 99 to 29, a reduction that is strongly contested by the train conductor's union Dansk Jernbaneforbund.
Negotiations to find a compromise solution broke down on 31 October this year. As the negotiations broke down, DSB decided to deprive all the union representatives of their tasks taking effect as of 1 November 2018.
The reason for the conflict, and the desire to reduce the number of trade union representatives, is according to the union that DSB wants to greatly reduce the influence that the train conductors have on their work.
The train conductors have been used to a high degree of influence on their work conditions, their work schedule and have in general been heard and taken into consideration during the planning process.