Mortensaften: Danish version of giving thanks for a good harvest?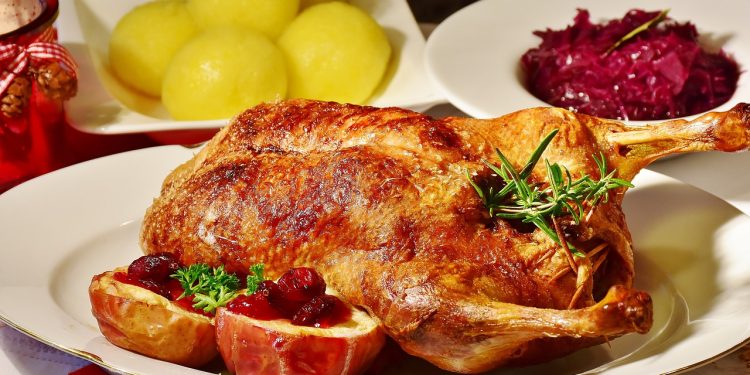 Leaves in all shades of fall brilliance blanket the landscape, cracking and squishing as we walk. It is November. That means one thing: Mortensaften or in English, Eve of Saint Martin's day, which falls on November 11.
The article continues below.
By Sanobar Elahi
Call it a Danish version of Thanksgiving?, minus the NFL games and change turkey with a different kind of bird, as in Denmark, on 10 November, it is duck you should have for dinner.
History has it that Martin of Tours (Morten in Danish), was a soldier who later on became a monk. Deeply pious and religious, he was to be appointed the next bishop. Not wanting to attain higher office and preferring isolation over company, Martin hid in a goose pen trying to avoid the detection.
Obviously not used to having a human hiding in the midst, the geese cackled and gave Martin away.
The article continues below.
He went on to become first a bishop and later on a Saint. Furious at this betrayal, Martin declared that every November 10, goose be served as the main meal.
Mortensaften is celebrated on November 10 in commemoration of this event, which for some believers, also marks the last day of feasting before the start of the 40 day pre-Christmas fasting period.
As with Thanksgiving, it is also the end of autumn and the harvesting season, and the welcoming of winter.
Since Danes are not deeply religious people, the day holds no religious value but is celebrated nonetheless with full vigour in the embrace of family, a traditional menu and general merriment.
Goose has since been replaced by small birds like duck. The menu itself is very traditional: Roast duck (not many have goose these days), roasted potatoes, brown sauce, red cabbage and lots of red wine.
The article continues below.
Where to buy?
You can buy your duck from any grocery store like Netto, Rema, Føtex, Meny, Irma, Brugsen etc.
Since it is Mortensaften, all grocery stores have deals in place for all kinds of poultry as competition is tough.
Finding fresh goose can be difficult in the smaller supermarkets, whereas big ones like Bilka and Kvickly usually do have both fresh duck and goose. Meny is also advertising both.
The article continues below.
Which duck to choose?
In Denmark, you will mostly find duck of the race called Peking And (a more traditional duck used for roast duck) or Berberi And.
The Peking And is a descendent of the common duck found in lakes and ponds, in Danish Gråand. As this is a born swimmer, it has quite a nice layer of fat, and the roast duck made from a Peking And is often very tender and juicy.
Contrary to the Peking And race, the Berberi And is a descendent of a duck variety, which lives in South America, it is not so attached to water, preferring staying ashore raking up lush green grass.
The Berberi duck thus has less fat than the Peking variety, and it is important to roast it for less time as it otherwise becomes to dry.
You will find that most sold whole ducks in Denmark tend to be of the Peking And race, whereas breast pieces often are of the Berberi And.
The article continues below.
TIP:
If you buy a frozen duck, the best defrosting result comes from a slow defrosting in the fridge. Leave it there for two to three days and place it in a dish big enough to contain all liquids to avoid any spill over on other food in your fridge.
The article continues below.
Are you up for trying out a roast goose?  Find the recipe below – courtesy of Arla.dk
Roast Goose With Fried Potatoes, Kale Salad & Grandmother's Dressing
(cooking time – about 6 hours at 125 °C and grill – about 4 minutes)
Goose
1 goose (about 6 kg)
1 tbsp. coarse salt
Freshly ground pepper
8 peeled apples cut in thick wedges
Cotton string
7.5 dl water
Method:
Clean, rinse and dry the goose. Cut the wing tips and the rump off. Rub goose inside and out with salt and pepper and fill with apples. Sew the goose with cotton string. Tie if possible, the wings and thighs close to the goose's body. Place the goose with breast side up on the oven rack. Put half of the water, wing tips, neck and giblets (omit the liver) in a roasting pan. Place the rack on top and roast the goose in the middle of the oven. Add the remaining water little by little. After approximately 5½ hours, take the goose out. Feel the thighs for looseness and see if the juices are clear. Let it rest covered for about ½ hour.
TIP: You can roast the goose the day before. Let the goose cool, divide it into pieces and place in a roasting pan. Brush if necessary, with a little goose fat and leave covered in the refrigerator. The next day, bring the goose to room temperature before roasting it at 100 ° C for about 45 min. Grill a few minutes at the end, so the skin is crispy.
Cabbage salad with apples
4 apples, diced
2 tbsp. white balsamic vinegar
1 tbsp. liquid honey
500g cleaned kale leaves (kale is a variety of cabbage with crinkled leaves)
2.5 dl whipping cream (in Danish the 38 % piskefløde)
2.5 tbsp. white balsamic vinegar
2.5 tbsp. icing sugar (in Danish look for flormelis)
A pinch of coarse salt
Freshly ground pepper
75g coarsely chopped, roasted, blanched almonds
Method:
Mix the diced apples with vinegar and honey, so they do not become discoloured. Cut the coarse stems and ribs off of cabbage leaves. Wash the leaves thoroughly and dry them well. Chop the leaves finely. Mix cream, vinegar, icing sugar, salt and pepper and whisk the dressing lightly together to get a creamy consistency. Combine the kale and dressing together and place the cabbage covered in the refrigerator for at least 15 minutes. Season to taste. Arrange kale and apples in layers in a serving dish and sprinkle with toasted almonds.
Sauce
20g soft butter
2 tbsp. flour
Brown food colouring
1.5 kg cooked small, scrubbed potatoes
50g of goose fat
1.5 tsp. coarse salt
Method:
Boil the goose broth in a saucepan. Remove the fat (save it) and measure the broth; you should have about 5 dl. (Boil further to reduce it if you have more than 5 dl or add water if you do not have enough). Mix butter and flour well and whisk in the broth. Boil the sauce over low heat for about 5 minutes, stirring occasionally. Add colour.
Spread the potatoes and goose fat in a roasting pan with aluminium foil. Set the roasting pan in the oven for a short time so the fat melts, if it has solidified. Remove the potatoes, turn them over and sprinkle with salt. Grill the potatoes on broiler – turning them a few times.
Divide the goose into drumsticks, thighs and wings. Slice each breast piece into 4-5 pieces. Place the meat in a baking dish. Place the apple stuffing in a bowl and grill if wanted. Cranberry sauce could add the final touch to this marvellous main meal.
God Fornøjelse! (ENJOY)
Support our magazine with a contribution of any size
We hope that you enjoy the information, insights and inspiration that we provide. We are a small team and we would like to keep delivering high quality, interesting articles for you to enjoy and your support will help Your Danish Life to continue to produce relevant content for expats in Denmark.
We do not want to put up a pay-wall, so we need your support and if you find our content relevant and worthwhile, we would value any contribution, however big or small, as a token of your appreciation of our efforts.
How to support:
Transfer any contribution to our bank account at: Your Danish Life/ Danish Expat Media Aps
Danske Bank Account number: 3409 11405673
IBAN: DK68 3000 0011 4056 73
or MobilePay to 2144 1224
Message: Support