Mounted royal guards, horses and a horse-drawn carriage at the reception of new AMBASSADORS by the Queen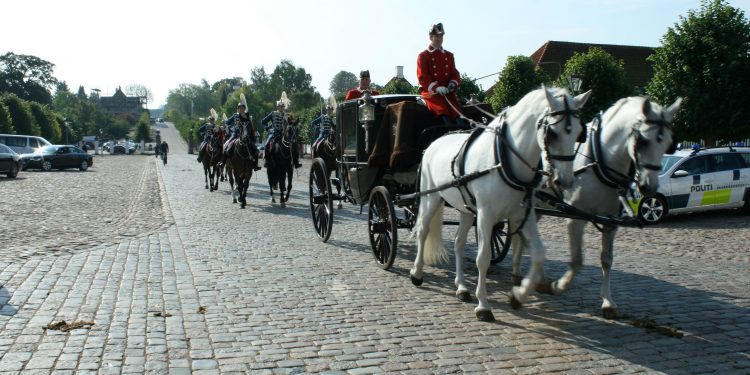 A very formal event and an ancient tradition when the Danish Queen recieves a country's highest representative at Fredensborg Castle on 22 September.
Text and pictures by Bente D. Knudsen
Find all the details below.
This very old tradition is maintained in the best form possible while taking into account the cost of moving around horses and soldiers from the Royal Mounted Guard Hussar Regiment who are stationed in Slagelse.
It is an event not to be missed while you reside in Denmark.
It takes place a couple of times a year depending on the number of diplomatic changes and entails the transport of a new ambassador by one of the Royal Stable's horse-drawn carriages, escorted by members of the Royal Mounted Guard Hussar Regiment.
The ambassador is taken to meet the Queen at the castle where she is in residence. During the winter she is mostly at Amalienborg from December until April and at Fredensborg from April to November.
This event on 22 September will be at Fredensborg Castle in Fredensborg, north of Copenhagen, as the Queen is in residence there at the moment.
Due to the cost, and practicality of transporting horses and soldiers from Slagelse to Copenhagen or Fredensborg, the Queen bundles her receptions and usually receives several at a time.
At this upcoming event she will receive a total of five new ambassadors from Chile, Iceland, Pakistan, Switzerland and Bosnia-Herzegovina at Fredensborg Slot. The event starts at 10:00 and ends around 12:30.
Find out how to participate below.
The main event takes place Friday 22 September when the Queen receives them at Fredensborg Castle. The ambassadors ride in the horse-drawn carriage from Fredensborg Station to Fredensborg Castle.
At around 9:50, the first ambassador will leave Fredensborg Station to arrive at exactly 10:00 at the castle where he is received and taken to meet the queen.
As there are five ambassadors, there is ample time to watch this event if you arrive anytime between 9:50 and 11:30
It is a beautiful event and there are plenty of opportunities to get a good view of the magnificent parade of horses, traditional uniforms and the horse-drawn carriage along the route.
The escort and horse-drawn carriage will go back and forth five times until the last ambassador departs at 11:30 from the train station to  Fredensborg.
Five new ambassadors – the article continues below.
The public can get quite close to the event and route.
At the end of the ceremony the ambassadors are picked up by their cars. Each meeting with the Queen takes about 30 minutes.
For this event the full regiment (up to 45 horses) do not participate.
However, a total of at least 20 horses and guard hussars from the mounted regiment and a horse-drawn carriage from the Royal Stables participate in it.
If you are able to take the day off, or plan it in at least once while you stay in Denmark, it really is a spectacle worth seeing.
More information and pictures below.
Support our magazine with a contribution of any size
We hope that you enjoy the information, insights and inspiration that we provide. We are a small team and we would like to keep delivering high quality, interesting articles for you to enjoy and your support will help Your Danish Life to continue to produce relevant content for expats in Denmark.
We do not want to put up a pay-wall, so we need your support and if you find our content relevant and worthwhile, we would value any contribution, however big or small, as a token of your appreciation of our efforts.
How to support:
Transfer any contribution to our bank account at: Your Danish Life/ Danish Expat Media Aps
Danske Bank Account number: 3409 11405673
IBAN: DK68 3000 0011 4056 73
or MobilePay to 2144 1224
Message: Support
The article continues below.
The Royal Stables used to be home to more than 100 horses.
The horses are immaculately maintained and very well behaved as you can see in the pictures below from inside of the Royal Stables at Christiansborg.
This photo report is from a past occasion when all 45 horses were at the stables at Christiansborg Castle and were preparing for the rehearsal ride of the Golden Coach Tour which takes place every yeaar in the beginning of January, another great opportunity to see this old and historic event. All pictures courtesy of Christian Lindgren.