Next week in Denmark is known as "efterårsferie", or autumn vacation, and children are off from school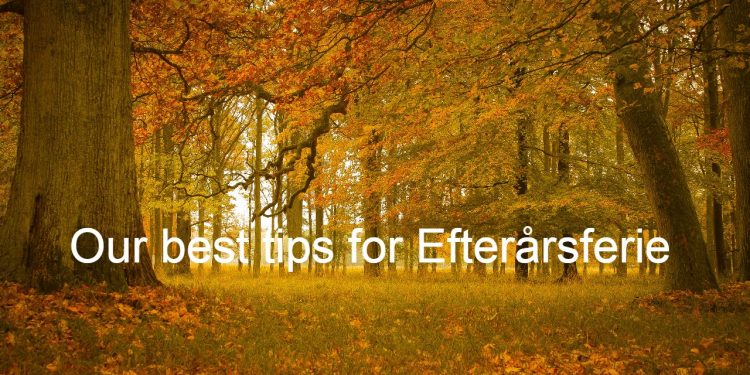 If you had travel plans, they have most likely fallen victim to the evil Covid. Fear not, if you are planning to stay here in Denmark, there are many fun events and activities to do around the city, and outside of it, if you are up for a road trip.
The article continues below.
By Jessica Sacco Picture:Hisham Ammar
From Wednesday to Sunday, Broens Gadekøkken, which is just over the bridge from Nyhavn, will be offering a wealth of fun, cosy and free activities for children and families.
They will "decorate the street kitchen for a large creative corner with space for free play and creative expression."
Everyone is welcome between 12:00 – 16:00. There is a lot of space, so plenty of room to spread out and follow Covid guidelines!
Enjoy fun activities such as a game and drawing corner, a collaborative painting project, chalk painting, a face painter for the children, flødeboller toss contest, and free popcorn.
The regular food stalls will also be open so you can enjoy a delicious lunch while the kiddies are having fun!
The article continues below.
Bakken, the oldest amusement park in the world, is also open from 10-18 October, 11:00-22:00 every day. They have the usual amusements, plus they've added a hay bale maze, good for younger children.
There will also be a daily music show and a detective show, but they are in Danish. Buy your ticket online to save DKK 50. Visit Bakken.dk for more information.
Tivoli is a must see this time of year, as it is fantastically decorated for Halloween! October 10th you can witness the Great Pumpkin Championship, where you can be amazed by the largest pumpkins in the country! Some may weigh over a couple hundred kilograms!
Normal activities include Halloween themed shows for the little kids, and spookier activities for the older (and braver!) ones. Rides are open as usual. Operating hours are 11:00-22:00 from 9 October- 1 November. Visit Tivoli.dk for more information.
There are several free Halloween/autumn activities around Copenhagen as well!
The article continues below.
Visit Bryghuspladsen by BLOX, 12 – 16 October, where you can cut pumpkin lamps from 11.00-14.00. They provide pumpkins and tools. Regardless of the weather the activity will take place, and they will follow all guidelines in relation to Covid-19.
Registration takes place by families "buying" tickets on Billetto.dk. for pumpkin lamp cutting (billetto.dk/e/halloween-blox-billetter-482704/select).
The price is DKK 50 per. family (up to six people), which is a deposit returned on attendance (excluding fee). Each family can select the number of pumpkins corresponding to the number of children (under 12 years), and each family works at their own table.
You have a full hour to work on your pumpkins. When you buy a ticket, you must choose the day and time of arrival.
The article continues below.
For more Halloween fun, check out the activities at the Outdoor Museum in Kongens Lyngby (Frilandsmuseet Det Gamle Danmark, Kongevejen 100).
They have a daily program:
11.00 / 13.00 / 15.00 – The world's most eerie magic show
12.00 / 14.00 – Ghost tours (NOTE not Sunday 18 October)
12.00 / 14.00 – Theater – Ellepigernes Ring (from Wednesday the 14th – Sunday the 18th of October)
11.30 / 12.30 / 13.30 – Troldebattle
Other activities include cutting your own pumpkin lantern, fighting the creatures with bow and arrow, creepy obstacle course, and seeing the magical forest! There is a spooky theatre show, and ghost tours, for which you can buy tickets for DKK 20 on the day.
They will have food for purchase, such as "frighteningly good organic sandwiches, focaccia, beverages and dangerous snacks, such as poisonous candyfloss and mouldy popcorn. And accoding to their Facebook event there will also be ghost cakes, coffee tea and cocoa.
If you would like to have some fun on the farm, and don't mind a bit of travel, check out a frugtplantage, or orchard, where you can pick apples and pumpkins this time of year.
The article continues below.
Frydenlund Slot is a beautiful place to visit not only for the grounds, but its vast orchards where you can pick your own, or visit the market for many other fruits, vegetables, and homemade goodies.
It is open daily from 8:00-18:00, and is an 18-minute drive, or close to an hour ride on public transportation. Visit the website Frydenlundslot.dk for more information.
Another orchard that is a little further away, around 30 minutes by car and nearly 2 hours on public transport, is called Kildebrønde Frugtplantage. It offers to pick your own, as well as a market full of fruits, veggies, and other treats.
Located in Greve and open from 9:00-17:00 every day. Kildebrønde-frugt.dk for more information.
And lastly, if you are up for a day trip to Fyn, visit Egeskov Slot, where they are in full Halloween mode! Many different activities will be taking place, both for little children and scarier ones for adults and older children. Experience the treasure Hunt in Count Dracula's Blood Trail, a spooky resurrection with witches, ghosts, Dracula and many more!!
There will also be pumpkin cutting and food and treats for the whole family. Check out their website https://www.egeskov.dk/calendar/efteraarsferie for their full program details.
As you can see, there is much to do in Denmark during efterårsferie!
Have a fantastic break and let's hope for dry and sunny weather.