"No Exit – Reloaded" at The House of International Theatre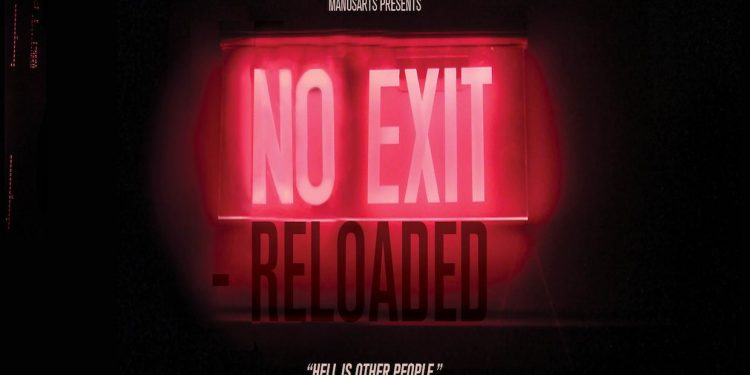 A dark night – but a good performance in English. Review from the premiere night.
By Louise Chamberlain   Picture: PR
Copenhagen's House of International Theatre has opened its 2017/18 season with "No Exit – Reloaded", based on Jean-Paul Sartre's classic noir "Huis Clos".
Set in 2027, this modern retelling condemns Yulia, a sniper, and two of her victims, who are themselves far from model citizens, to coexist in a room together for eternity.
The talented cast of four put on a dark and slightly disturbing performance – hell is other people.
The play was written exclusively for HIT by BAFTA Award-winning playwright John Foster and is directed by Down The Rabbit Hole's Jeremy Thomas-Poulsen,.
It runs until 11th October at Huset-KBH.
The article continues below.
HIT is a new English language theatre cooperation between  Manusarts GmBH and Down The Rabbit Hole. Their aim is to promote cultural activity and cultural exchange for the growing expat community in Copenhagen – however their productions reach out to expat communities in other parts of Denmark as well.
If you want to have a peep at what they are about first – why not check-out some of their free pre-performance events. For instance the 10 October at 17:30 when they host a free jazz warm-up by Dagian, or the 11 October with the small performance "The Chaos of Life" also at 17:30.
Located on the fourth floor of renowned HUSET in Copenhagen City centre, the venue is cosy and warm.
More info here