NORWAY – Let nature and adventure blend together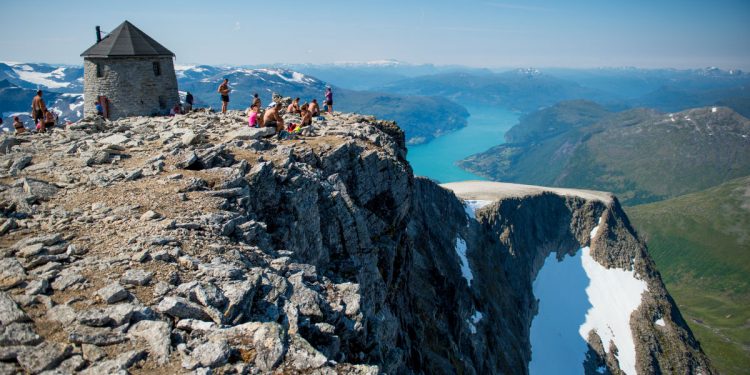 Filled with abundant wilderness and jaw-dropping scenery, the Norwegian western mountain region offers travellers a great selection of the country's top gems.
The article continues below.
By Adriana Alcina        Pictures:VisitNorway & Innovation Norway/Sverre Hjornevik
Norway's majestic snow-capped mountains and countless natural wonders make it a dreamy destination all year around.
Nevertheless, the summer is undoubtedly the best season to embark on a trekking journey, when warm temperatures and long daylight hours make it a particularly pleasant endeavour. Driving is the easiest way to explore the region, although good public transportation is widely available.
In my quest to find some of the most exciting hiking itineraries in the Western region of Norway, I asked Kim Petersen, a Dane who moved to Oslo almost twenty years ago, and who has travelled extensively across the area. Kim describes Norwegians as "being in love with nature, and especially with their mountains.
"Expats may think that Norway, as a Scandinavian nation, is an extended version of Denmark, but even though both countries share strong historical ties and a fairly similar culture, remarkable differences still prevail in many aspects, such as language, food and sports," as Kim points out. "Skiing is extremely popular from December to April, and most Norwegians enjoy practicing it as well as watching it on television".
Overall, he thinks that Norwegians typically spend more time outdoors than Danes. "Indeed, even in the winter months, people often have barbecues outside".
The article continues below.
Suggested hiking routes
According to Kim, an excellent place for mountain climbing is Besseggen, which lies in the popular Jotunheimen National Park.
The seven-hour trek includes numerous well-marked hiking trails that take visitors through spectacular mountains with dramatic, sweeping vistas.
The Besseggen hike is not too steep and therefore not too physically demanding, which makes it ideal for the whole family. Local buses frequently run to Besseggen, but most travellers choose to access it by boat.
The boat departs from Gjendesheim, and cruises across the stunning lake Gjende, arriving at Memurubu. Besseggen is 16 kilometres long and its highest peak, the Besseggen Ridge lies at 1,743 metres.
The Jotunheimen National Park (which means "The Home of the Giants") also encompasses the Hurrungane mountain range; with 23 peaks of over 2,000 metres.
These mountains are home to Norway's sharpest alpine peaks. Many of these peaks can only be accessed through climbing or glacier crossings.
Climbers often decide to start their hike at the Turtagrø Hotel, where the staff can provide information on trails and climbs. Originally built in 1888, the hotel was the first to offer climbing courses, and today still remains a meeting point for mountaineers.
Another highly recommended national tourist route lies at Sognefjellsvegen Mountain, a mountain range that passes through the Jotunheimen National Park and Breheimen National Park.
The area is famous for its traditional wooden houses (log cabins) with grass roofs. Hikers typically depart from the little village of Lom, whose main attraction is the enchanting wooden stave church; dating back to the 1100s. The church is a perfect combination of Christian and Viking pagan architecture.
Adventurous traveller's can climb the Galdhøpiggen peak, whose 2,469 metres make it the highest mountain point in Scandinavia.
A cosy place to check in for the night is the historical Fossheim Hotel in Lom. Enjoying a privileged location surrounded by beautiful mountains, scenic lakes and farms, this family-owned business provides a hospitable and peaceful environment for its guests.
Uncovering fjords and glaciers
Norwegian scenery is famous for its breathtaking fjords and magnificent glaciers, and the area within Stryn municipality in the Western Region makes a great spot to witness both.
It is here that the spectacular Skåla Mountain stands out, offering stunning panoramic views of the coastline, mountains and glaciers. At the summit of the mountain lies the Skålatårnet or Klouman round tower, a self-service cabin built in 1891 that contains 22 three-tier bunk beds, which are open to the public.
The eight-hour hike to reach the peak begins at Tjugen and is quite steep, so is only recommended for experienced and fit trekkers.
The nearby Nordfjord can be accessed by boat or car, driving along the scenic Panorama Road. It is worth going to the West Cape Plateau, which is the westernmost viewpoint with a connection to the mainland, in order to admire the breath-taking sea views.
Don't leave without exploring the magical, glittering blue glaciers embracing the lush valleys. The area is home to the biggest glacier on mainland Europe, The Jostedalsbreen Glacier.
Accommodation options are abundant, ranging from the luxurious and stylish Hotel Alexandra, to the more affordable Aabrekk Gard farm in the Oldedalen valley in Stryn.
The article continues below.
Local flavours
The traditional peasant Norwegian culture is reflected in the area's local food specialties, such as artisan bread, butter, marmalade, cheese, vegetables, salmon, and cod.
For some good-quality, locally manufactured produce, check out Brimi sæter (www.brimi-seter.no), in the summer. They sell their products directly from the farms in the centre of Lom.
However, if you fancy a more sophisticated gastronomic experience, try Fossheim's hotel's gourmet restaurant in Lom. This restaurant's cuisine includes venison meats from deer, reindeer, and elk.
The famous Norwegian chef and food writer Arne Brimi used to run the restaurant, and even though he is no longer in charge, his legacy has remained intact. For a quick bite, visit the delicious Lom's bakery.
The article continues below.
Practicalities
The North western region lies midway between Bergen and Oslo. The closest airport is Sogndal Airport, Haukåsen, but it only serves regional routes to Norway's two largest cities.
It might be easier to fly from Copenhagen Airport to Bergen or Oslo and rent a car. It takes approximately 4.5 hours to drive to the Norwegian western region, but the fabulous landscapes make it a very scenic ride.
The train is also a convenient way to reach the area. The closest train station is in Otta, from which local buses frequently depart to several locations in the mountains.
The article continues below.
OUR TIPS
 If you would like to book a guided tour, contact the Norwegian Trekking Association (DNT,
www.english.turistforeningen.no
). They can also provide you with more information on hiking routes and accommodation options, including cabin rentals.
Another useful website to search for accommodation is: www.nordfjord.no/en/ACCOMMODATION/Cabins-Holiday-Houses It includes a list of campsites, summer cottages and cabins available for rent.
Check with visit norway if there are any changes and restrictions due to the coroanvirus situation.