OPENING CEREMONY WILL LIGHT UP #AARHUS2017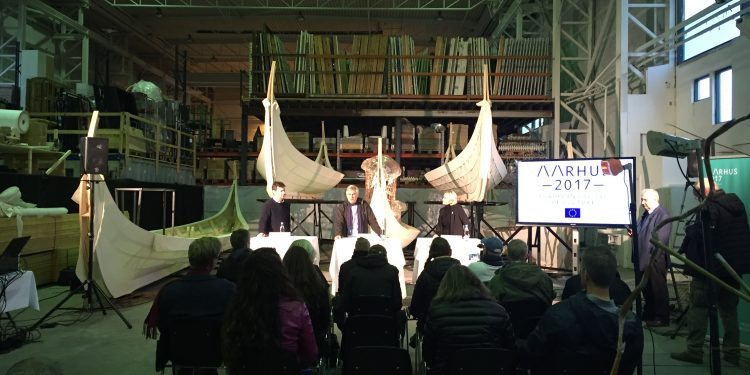 Outside it's cold, stormy and grey. Inside the large warehouse, the physical temperature is only marginally higher but the mental temperature is close to feverish. Aarhus European Capital of Culture (in short #Aarhus2017) has presented its plans for the January 2017 opening ceremony.
By Inger Stokkink
In this warehouse on Balticagade, right by the old harbour of Aarhus, professionals and volunteers are working side by side, building gigantic Chinese lanterns shaped like Viking ships, which will light up the Danish winter on 21 January next year.
DR will be broadcasting the event live, with more than twenty cameras following the event, so you will be able to see everything there is to see from the comfort of your own home – or on your smartphone.
Light giving Ships
The opening ceremony will take the shape of a procession of giant Viking ships, which will light up the streets of Aarhus, accompanied by countless small-lighted ships.
Every ship tells its own story. There will be one for: history, nature, Greenland, sustainable cities, dreams, voyagers from faraway countries (that's us!), and much more.
The tower of Aarhus City Hall, already a landmark, will be illuminated, shining like a beacon and beckoning the world to come and see. In the harbour, where Aarhus Å meets the sea, lantern-ships will meet real ships in the water.
Streets alive with singing and music
And there will be music. Aarhus Symphony Orchestra, Aarhus Jazz Orchestra and 20 choirs will perform at the opening ceremony: Stemmernes Passage with music and songs composed for the occasion by Aarhus Jazz Orchestra's leader, Jakob Buchanan.
Up to 1,000 choir singers will sing and perform on squares and streets and other parts of the city, welcoming the boats and starting the yearlong cultural events planned for Aarhus European Capital of Culture 2017.
Build your own boat
Why not join in and be part of the opening ceremony? The organisation of #Aarhus2017 wants Aarhus' citizens to be part of it, not just bystanders.
From December until the middle of January, you have the opportunity to build and decorate your own boat at Mindet 6, in Aarhus Harbour. After having been part of the procession, you can take your boat home with you as a souvenir.
Now we only have to cross our fingers for good weather for the opening ceremony on 21 January.
How can you build your own boat
"It takes about an hour and a half to build a boat," says Nigel Jamieson. The following link gives the dates of the workshops when you can build your boat. Places are available on a first-come-first-served basis during weekdays. During the weekend, you are requested to sign up. In December, you can build boats from laminate, in January the workshops focus on boats made from willow boughs.
Here is more information
(in Danish):
WHO IS NIGEL JAMIESON?
Nigel Jamieson is in charge of the opening ceremony. He is a theatre director with lots of experience in staging large theatrical events, like the opening ceremonies of the Olympic Games in Sydney in 2000 and of Liverpool European Capital of Culture in 2008. Look here for a clip of the Sydney event.