Party at Amalienborg tonight for HRH Prince Joachim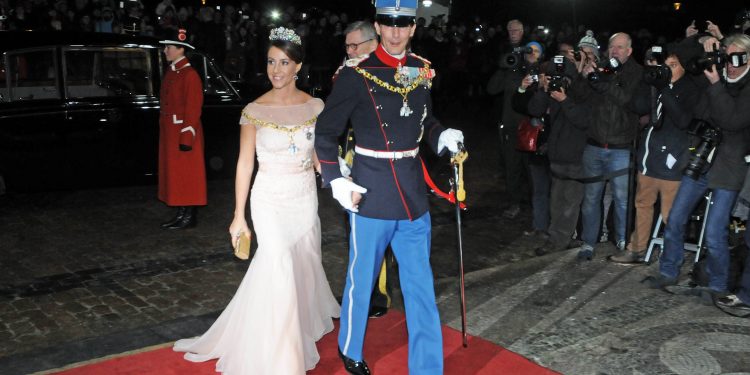 HRH Prince Joachim is celebrated this evening at Amalienborg Palace. You can watch all guests arrive from the square in front of the palace.
The article continues below.
By Bente D. Knudsen
As the youngest son, and with only 11 months apart, HRH Prince Joachim followed literally in the footsteps of his big brother, Crown Prince Frederik, for the first 18 years of his life. They went to the same nursery, the same school, the same classes, and graduated from high school the same year.
However, the role as number two was probably never easy, and certainly as his brother married and produced four heirs, his role as heir to the throne has become less important over the years.
His children are not Royal Highnesses, Kongelige Højhed, but just Højhed/ Highness, to mark that they are further down the line to the throne. They will have to fend for themselves, as they will not be entitled to state support, or appenage as it is called in Danish.
The article continues below.
His 50 years are celebrated this evening with a dinner hosted by his mother Queen Margrethe, and you can watch from the square in front of the palace Christian VII's Palæ (this is the official guest and reception palace at Amalienborg) as guests and royals arrive to celebrate him.
They will start arriving around 19:10, the royals will arrive last close to 20:00.
At the recent birthday dinner for her sister's 75 years, the Queen surprised her sister with a carriage ride and royal escort around the square instead of the royal limousine, however, no information has been given if this will be the case also for her youngest son's arrival.
Present at the dinner will be Queen Margrethe, the Crown Prince couple, Prince Joachim, Princess Marie and Prince Joachim's four children as well as representatives from the official Denmark, the court and other friends and family members.
The article continues below.
Facts:
His Royal Highness Prince Joachim Holger Waldemar Christian, Prince of Denmark, Count of Monpezat, born on 7 June 1969. He is included in the order of succession to the Danish throne and may act as Regent when the Queen and Crown Prince Frederik are abroad
In his second marriage on 24 May 2008, he married Miss Marie Agathe Odile Cavallier, who in connection with the marriage became Her Royal Highness Princess Marie of Denmark, Countess of Monpezat.
From his first marriage he has two sons; His Highness Prince Nikolai William Alexander Frederik, born on 28 August 1999 and His Highness Prince Felix Henrik Valdemar Christian, born on 22 July 2002. From his second marriage he has two children; His Highness Prince Henrik Carl Joachim Alain, born on 4 May 2009, and Her Highness Princess Athena Marguerite Françoise Marie born on 24 January 2012.