Pets are also expats – on the move with your best friend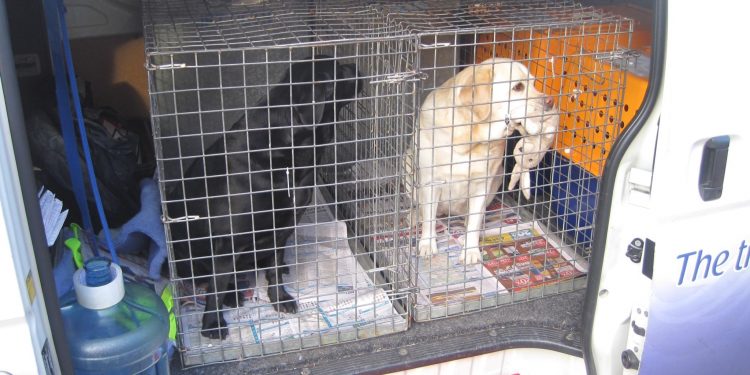 Are you about to move to Denmark and bringing pets – or on the move from Denmark with your pet? Find inspiration in moving around the world with your best friend in our expat writer's own experience.
The article continues below.
"How would you like the idea of moving to Sydney, Australia, for a couple of years?" Bob, my husband, confronted me with this question one spring afternoon a few years ago. Without thinking this could actually be something real, I answered "Yes – why not?" Little did I know that my nonchalant answer would be the start of a huge process – and the beginning of our pets' globetrotter years.
By Peteriina Vainola-Grund
The wheels were set in motion almost immediately with Bob flying to the other side of the world for a week's visit to meet everyone. It was the American company in Austria he had worked for over the last 20+ years that sent him for a new assignment to Sydney.
We have no children – but our furry companions are our babies. Junior and Dusty, our cats, and Cindy & Emma, our two Labrador-girls.
We immediately began searching the internet for advice and of course, to find out what bureaucratic arrangements and hurdles we had to go through in order to bring them. We did not even for a single moment consider not taking them with us.
We set up a to-do list of official documents, blood tests, vaccinations and started to find out who would take care of them while they travelled.
It soon became clear that the cats would not take well to this move – cats being very sensitive to their surroundings. With a heavy heart, I was thankful that Bob's cousin would housesit and thus also look after the cats.
Our to-do list grew in length.
The article continues below.
Amazing what a move to the other side of the world entails.
Everything had a do-by date: Vaccinations, blood tests and certificates/documents confirming the dogs' health and viability to travel and live in Australia were all done in the next few weeks and months.
In addition, as we were planning to rent while in Sydney, we needed a certified statement from our vet proclaiming our dogs are well-behaved and healthy! We were told Sydney landlords often requested this.
A certificate from the county's official veterinarian testifying that all vaccination requirements are met was also needed.
Next came the hurdle of arranging the dogs' flights to Sydney as well as arranging the quarantine. Australia still demanded that any animals from abroad stay for four weeks in the quarantine.
Needless to say, I enquired extensively for recommendations and information before we agreed on a pet transporting company. These were our fur babies, after all!
The article continues below.
The dates for their flight was set – the quarantine stay arranged. The day our dogs left on their globetrotting flight came. It coincided with the busyness of our things being packed and loaded onto a truck. Our belongings would spend the next ten weeks in a container on a ship.
With all this hectic around me, saying goodbye to the dogs took place in a hurry. That was a good thing – I had enough to worry about.
My two furry babies mean the world to me – the idea of them being on a plane all alone on their way to the other side of the world, the unknown, was scary enough.
Once we had arrived in Sydney, we visited the dogs in their kennel in Eastern Creek. We were let in their cage for a maximum of one hour and could not take anything with us to bring to them.
The visit was heart-breaking for me: Seeing both dogs nervously pace in their cage and hearing dogs barking all around – all I wanted was to get them home as soon as possible.
We could not choose which days we wanted to visit the dogs but had to follow a strict schedule, this seemed like a prison-visiting routine.
Our house-search was done very speedily: all we wanted was to prepare a home for our dogs to come to. The day finally arrived when their quarantine-stay was over. Oh, what joy! We spent some wonderful years down under – and both dogs settled in well.
The article continues below.
When we had to leave at the end of Bob's assignment in Sydney, it was time to arrange our return. However, instead of going home to Austria, we got a new posting – this time to Great Britain.
Another meticulous planning & active search began to find out about restrictions and requirements in our new host country.
Out came the to-do lists again – and they were quickly filled by do–by dates. I began an extensive search for a new pet transporting agency.
This time our two Labrador girls flew via Malaysia/ Kuala Lumpur with an overnight stay in Dubai's airport (apparently their kennels for travelling pets are the world's best) to London where they would be officially checked. Thankfully, the UK does not require any quarantine stay.
As our own arrival in the UK did not coincide with the dogs, we also had to arrange a kennel for the dogs' first days.
I was instantly relieved when the kennel replied to all my inquisitive emails, telling me they would "look after the girls like their own". I was sent almost daily updates telling me how the girls were doing.
There was one message, which still puts a smile on my face: In it we were told of the girls' daily schedule ending with their evening tea.
"Wow, I thought – even animals in the UK get tea!"
Not being British, I did not know at that time that evening tea refers to dinner/supper!
Ever since we have been living in the UK, this is the kennel the dogs go to when we are away. They love going there, which is quite evident as they jump out excitedly as soon as we arrive there – maybe the evening tea is better there?
For anyone planning to take his or her pets to a foreign country, my advice is simple: research, research, research & plan well.
As soon as you get to know of your definite move, start preparations for your pets in order to get all the bureaucratic paperwork & veterinary requirements done on time.
Set up to-do lists and find out all specific dates by which things need to be completed.
Get advice, ask people for recommendations, experiences – even your vet.
The article continues below.
Regulations for moving to Denmark
First of all you need to define if your pet is travelling as a non-commercial animal – this means that it is not brought to Denmark for sale but it is a rejse med kæledyr as the Danish term says.
To comply as a non-commercial move a certain amount of rules must be followed:
– The move is due to its owner's need to move (for instance an expatriation)
-The pet is moved by and with its owner, or within five days of its owner's own move
-It is not meant to be sold or given to someone else
-If for instance the move comes from a country outside of the EU and you are travelling with the pet – then only the airports of Kastrup and Billund can be used.
-If you are travelling from an EU member country the general EU rules for travelling pets apply also in Denmark.
The general requirements to follow are : the pet is travelling with a person, ID-identification tag, EU passport for pets and a valid rabies vaccination.
If you cannot comply with the rules for travelling with your pet as a non-commercial move, other rules and regulations apply for the commercial move, kommerciel flytning.
Moving with your best friends is complicated – so check extensively to find out what each country's regulations are – take also note that for instance in Denmark some dog races cannot be imported – whether in private or for commercial reasons as the dogs are not legal to possess in Denmark
In Denmark the authority dealing with travel with your pets is the Danish Food and Environmental Board – more information here.