Raise your spirits with an evening in one of Copenhagen's best cocktail bars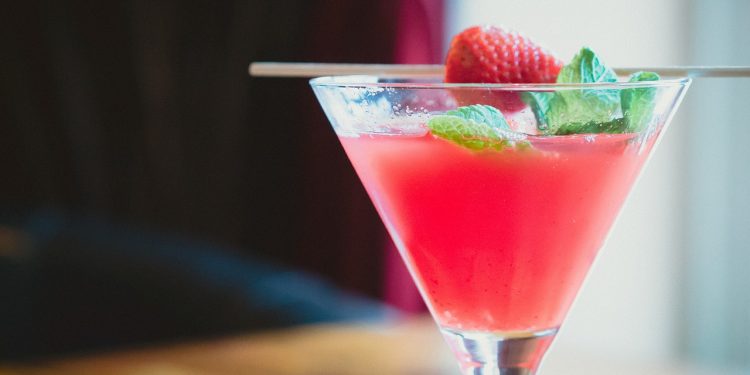 With everything open again, maybe this is the perfect time to cosy up and enjoy an expertly mixed drink with friends. Here is our guide to some of the best cocktail bars.
The article continues below.
By Louise Chamberlain
Denmark has a long history of brewing and distilling. Despite being a nation known for its beer, Denmark is also becoming increasingly notable for an emerging cocktail bar scene.
The number of cocktail bars has grown rapidly in recent years and Copenhagen in particular now boasts some of the best bars in Europe.
A new generation of bar tenders, many of whom have honed their mixing skills in other countries, are producing elegant and innovative drinks made from unusual spirits and handcrafted syrups and infusions.
Find our tips below.
Strøm. When Strøm opened in 2012, it caused a few raised eyebrows amongst traditionalists. Low key and unpretentious, Strøm was the first bar in Europe to serve hand crafted cocktails on draft.
It has been a resounding success and the bar has won numerous accolades for both its cocktails and customer service.
Brønnum – a bar with a long history  – reopened in 2016. It has been delicately refurbished to match its history; the 125 year old family owned "Café Brønnum", was a lively venue for bohemians of Copenhagen like H.C. Andersen and Dan Turell.
Until it closed in the 1990s, it was the other place (together with Cafe Victor) where the well to do and young career professionals hung out.
Located right by the historic Kgs. Nytorv on the corner next to the Royal Theater.
Here Rasmus and Adeline Shepard-Lomborg, the couple behind by now renowned bars Ruby and Lidkoeb ( find them detailed here) have opened yet another cosy bar.
Upon entering you are welcomed by the main bar – decorated by beautiful original wood carvings. It looks so much as though it was always there  – an inherent part of the history – it seems unlikely that it was imported from an antique pharmacy in Sevilla.
Ruby Opened in 2007, Ruby has fast become a Copenhagen institution. In 2015, it was ranked 34 on the list of the world's 50 best bars. There are no flashy signs to indicate that you have arrived at Ruby.
The entrance is difficult enough to find to make it feel like a pretty exclusive place. However, once inside, Ruby has a relaxed, unpretentious atmosphere. It is decorated like a luxurious apartment with big comfy sofas and cosy armchairs.
The bar tenders are friendly and attentive, and the drinks they mix are some of the best cocktails in Copenhagen.
Bar 7
Low key and casual, Bar 7 has broad appeal and is now a newly born nightclub. It's your favourite cocktail bar, mixed with a true nightclub-vibe.
The bar was opened by Irishman Shane Kernan and has been a Copenhagen classic for over nine years.
It is popular with locals and tourists, as well as being a favourite meeting place for students.
As the evening progresses, the bar turns into a hip party spot with great music and a relaxed vibe.
More tips below.
The Barking Dog
Located in the Nørrebro district of Copenhagen, between Sankt Hans Torv and the Lakes, The Barking Dog is a casual place for a quick drink. It's relaxed and cosy, calling itself a "cocktail pub".
The menu is intentionally short to encourage customers to interact with bar staff.
Despite being a pretty unassuming place, the bar tender knows a thing or two about cocktails. After a quick chat to ascertain your taste, he will whip up something bespoke that will hit the spot.
Curfew
Curfew is conveniently located close to Copenhagen Central Station. Despite its humble exterior, inside, the bar is elegant and stylish with the décor taking inspiration from the owner's Portuguese origins.
Glass cabinets in the bar house an impressive collection of vintage cocktail paraphernalia.
The autumn / winter cocktail menu takes its inspiration from iconic song titles, such as "Chestnuts Roasting on an Open Fire" and "Scarborough Fair".
Lidkoeb
Another place that can be a bit tricky to find, Lidkoeb is located in a beautifully restored three-storey building in a courtyard off Vesterbrogade in Copenhagen.
It's owned by the same couple as Ruby and retains the high quality, innovative cocktails but has a slightly more relaxed vibe. The décor on each of the three floors is different and each level has its own atmosphere.
An unusual touch is the third floor, which is entirely dedicated to whiskey, with a huge selection from around the world. Although a relative newcomer (the bar opened in 2012), Lidkoeb has still made it into the list of the top 100 bars in the world.
Find all details of the bars below.