Ready for your first sea bath in 2018?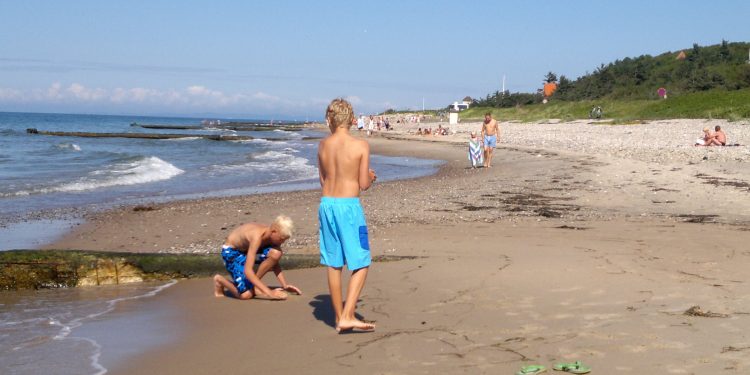 Due to the many hours of sun in May – you might be able to go early to the beach for your first swim this year.
The article continues below.
By Bente D. Knudsen
Although the Danish sea can never compete – temperature wise – with for instance the warmth of the Mediterranean, after a period of warm weather during the summer, it can reach highs of 20 to 22 degrees Celsius.
The good news is that this may happen sooner this year, than last year (did it ever reach that level last year?).
According to DMI, the past 14 days of May sun and warmth has performed what they call "a small miracle" for the otherwise ice cold sea.
At the beginning of May, the warmest waters were between 10 and 12 degrees C and the coldest around 6 degrees C. However, since the 2 May, the sun has been present for about 10 hours a day, something which greatly affects the water temperature.
The article continues below.
Oceanographer Jacob Woge from DMI says in a press release that, "At this time of the year, when the sun is high in the sky, the sun rays can heat up the water with 0.5 degrees a day."
According to him, if the sun continues to shine – in other words if we do not get a long spell of the usual windy, cold and cloudy weather, you might be able to get an early June swim this year, as temperatures may then rise to between 17 to 19 degrees Celsius – enough for Vikings at least.
Some waters have already reached 16 to 17 degrees Celsius DMI claims,  which is 5 degrees more than what is usual for the season.  To get this water temperature  now, you need to go to the Wadden Sea, some of the fjords such as Limfjorden, and the Baltic sea south of Lolland-Falster.
In our Spring/Summer printed magazine, you can find inspiration for beaches, magnificent coastlines and quaint seaside towns to enjoy even now in May and June. You can buy a printed magazine for DKK 75 or a digital issue for DKK 25 in our web-shop here.