Remember to buy your wheat bun – look for hvedeknopper or hveder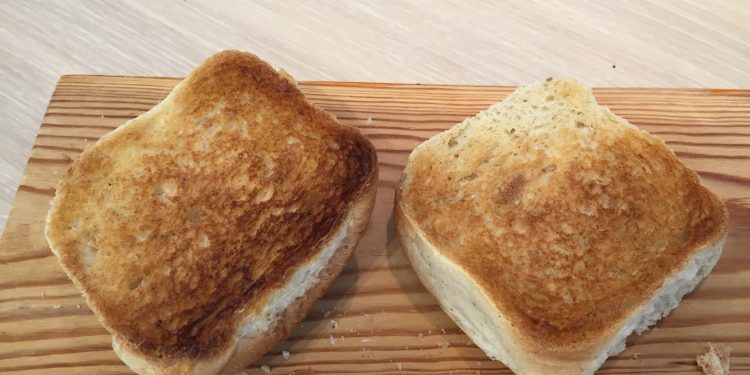 If you are keen to follow Danish traditions, then don't miss out on buying the Great Pray Day wheat buns. Prepare them properly, or you will find them sadly dry and stale.
The article continues below.
By Bente D. Knudsen
As a fan of Danish bread and pastry, you might think you were in for a great experience with the famous hveder, the Danish name for the wheat buns, which are eaten warm at the occasion of the Great Prayer Day, Store Bededag.
The day is always on a Friday –  this year the day is 16 May.
However, remember they were baked the day before Store Bededag, so they were often a bit dry, even hard and certainly did not taste freshly baked. This is why they were always eaten warm.
The recipe hasn't changed much, and as the big buns are still slightly dry, you actually need to warm them up to enjoy them at all.
The article continues below.
Here's how to do it:
Split the buns in half – you can feel they are a bit dry inside. Put them in the oven, you can use the grill function – but remember to keep an eye on them, otherwise they will easily burn.
Take them out when they have gained a beautiful golden colour, add ample supplies of butter (they will not be as good if you leave out the butter!) and eat them immediately.
It is the melting butter, mixing with the bun's cardamom flavour, that makes this bun different from your standard bun.  Really yummy for those who like butter and are not trying to stick to a healthy diet just then.
Where to buy them?
You can get
hveder,
or
hvedeknopper
as they are also named, at any of your usual grocery stores. All of the big industrial bread bakeries make them for Store Bededag and, of course, you can also buy them at your local bakery.
At Lagekagehuset – where the bun for our picture is from – they are sold at DKK 10/piece and DKK 50 for six buns, which is in the high end price-wise compared to the industrial buns.
However, at the bakery they are also twice the size, and you can easily share one.
We have in vain tried to get the total amount of hveder made by Lakagehuset – but they are too busy baking them to find time to count them!
Read more about what the Great Prayer Day is all about in our article here