Shopping for your daily groceries – Our GUIDE to the Danish Grocery Market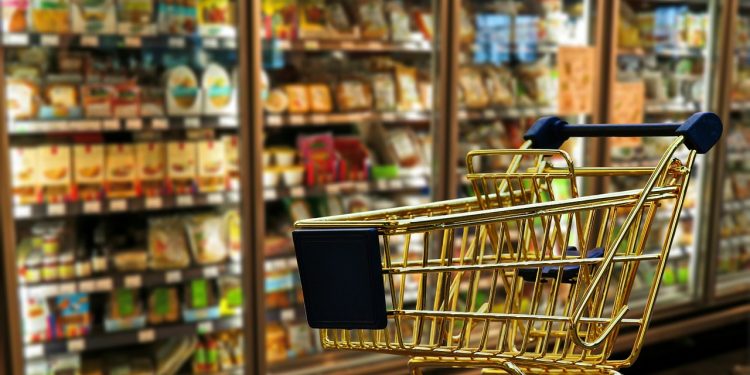 Getting used to shopping for your groceries in a new country can be quite a challenge. In Denmark, for instance, you won't find any of the hypermarkets you may have been used to. OUR GUIDE offers some insights into who's who.
By Bente D. Knudsen
Upon moving to Denmark, one of the first new adjustments that you have to make is dealing with your daily grocery and household supplies shopping.
If you find Danish prices high, you are possibly not surprised by the latest European Price Index Statistics from June 2022.
They place Danish food prices at the very top of the 15 EU countries Danes normally compare themselves with only surpassed by Luxembourg.
The Danish food price level (excluding alcoholic beverages) is at index 120 of a European average (all 27 countries) set at 100.
In the same price index range are countries such as Ireland (119), Sweden and Malta (both at 117), Finland at 113, and France is climbing up there as well at index 110.
Danish inflation grew in July 2022 with prices up 8.7 percent compared to July 2021, the highest growth rate since 1993, according to Denmark's national statistics bureau, Danmarks Statistik.
With rising inflation in Denmark, the Danish Grocery Market is changing as consumers are adapting to these steep price increases.
During corona, consumers spent more on grocery shopping in high-end shops and less in discount stores.
With the rise in food prices, the market is changing back again to favour the discounters, several of the large supermarket chains report.
The article continues below.
Prior to corona, Danes were notorious for trying to spend as little as possible on their groceries and shopping at discounters or scanning the "tilbudsaviser", special offers flyers, was a national sport.
This trend is back and the market shares of discounters are growing. The number 1 discounter in terms of market share is Netto, owned by Salling Group.
Salling Group's CEO, Per Bank, explained in a recent interview with Danish newspaper Jyllands Posten that Danish consumers have changed their shopping behaviour over the past months in three ways:
They are (again) scanning for good offers and reading the tilbudsaviser/special offers flyers.
They buy the supermarkets' own brands.
They are changing to discount stores.
This change has a huge impact on the grocery chains' revenues.
Shopping across borders is also common. Danes living in mid and south Jutland are quite used to driving to German outlets. Prices there are lower because of the lower German VAT on food compared to Denmark's 25 percent.
In this short guide, you will find an overview of what the market looks like, who the main players are and how you can shop smart to reduce costs.
Find our guide below.
What does the market look like?
The Danish grocery market, in Danish dagligvarehandel, is a market of DKK 100 billion.
Prior to corona, the total market spend was stable even slightly decreasing according to Danmarks Statistik and there was an increase in spending on restaurant visits and takeaways; money spent on a meal not cooked at home is not spent shopping in the supermarket.
However, this was prior to the COVID-19 epidemic. During the epidemic, spending in grocery stores and on home delivery went up, a trend which has been reversed with the rise in prices.
For years, the Danish grocery market was characterised by a very large market share of the discount chains who cornered almost a 40 percent share of the market; Danes from all social groups shop for their daily groceries in one or more of them.
During corona, regular supermarkets and kiosks managed to stop their own decline in market share; with restaurants closed and travel impossible, consumers opted for better products to indulge in higher quality meals at home, a trend which highly benefitted the upmarket end of the grocery market.
Shopping online also grew steadily, even if the sales of groceries through online shopping only have an estimated three percent share of the total grocery market sales.
The battle for market share is again between the high-end grocery stores and discounters.
Traditionally, the discounters' prices for selected goods were quite similar, but in a recent price check survey from July 2022 by Danish Newspaper B.T ( link to article here), they found that there was a price difference between the different discounters of up to four percent between the cheapest and most expensive.
When they did the same price check survey in February 2022, the difference was only 2 percent.
Find an overview of the key players in the Danish Grocery Market below.
The article continues below.
With no large international players in Denmark, the grocery sector consists of  five grocery groups;
Three main Danish groups each with several different grocery brands; Salling Group, Coop and Dagrofa.
A Norwegian group with just one discount chain, REMA 1000.
Two smaller German supermarket chains Aldi and Lidl compete within the discount market.
The two largest, and by far most dominant groups, are COOP and Salling Group with a total combined market share of about 60 percent, each with a share of between 30 to 35 percent of the total market.
Depending on when the estimate is made, they move one or two percentage points in terms of market share.
In recent years, Salling Group has been the largest of the two in terms of share of turnover.
The article continues below.
Salling Group:
They own the grocery chains Netto (discount), Bilka, Føtex, Føtex Food and the department store Salling located in Aarhus and Aalborg as well as the online shop wupti.com.
They also own the online home delivery service SkagenFood (delivery of fresh fish and a small selected range of fresh fruit, vegetables and meat).
The Bilka supermarkets are the closest thing you will find to a hypermarket, with only one of them large enough to be defined as a hypermarket; if you are used to shopping in giants such as Carrefour or Walmart, you will find them very small in comparison.
There are 18 Bilkas in Denmark, mostly located outside of the city centres.
Føtex is a higher-end brand with 98 Føtex supermarkets. They compete with the supermarket chain MENY owned by Dagrofa as well as with both of COOP's supermarket chains SuperBrugsen and Kvickly.
Netto is the country's largest discounter with an estimated 35 percent market share of the discount market according to Retail Institute Scandinavia and have more than 530 shops.
The article continues below.
COOP Denmark
Has 1,065 supermarkets and is owned by its 1.9 million members. It is organised in the cooperative structure of COOP Amba, a Danish/Swedish group.
They own the supermarket chains Kvickly, SuperBrugsen, Dagli-Brugsen, Irma (only located in the greater Copenhagen area) and Fakta (discount) and their new discount chain Coop 365 Discount.
COOP Denmark has been making losses in recent years on their discount chain Fakta as well as with their Kvickly grocery stores.
Fakta has struggled due to generally bad locations of their discount shops and Kvickly has been battling with the movement of non-food products to online sales, non-food products traditionally being a large part of sales in the Kvickly supermarkets.
COOP's chain of supermarkets under the Irma and SuperBrugsen brand, on the other hand, have been doing better due to a large network of in-town shops with good locations and, until inflation hit, had quite a lot of success with their focus on having a minimum assortment of high quality products, as well as a large selection of organic produce with a local sourcing focus for fresh vegetables and fruit.
COOP announced on 14 September this year that due to the price pressure from discounters and increasing running costs in all of  COOP's grocery shops, it has decided to reduce the number of grocery chains.
Fakta will close and be replaced by Coop 365 Discount. Which shops will be replaced by Coop 365 and which ones will close completely has not been announced but in recent years more than 80 Fakta locations have been closed.
COOP expects to have 400 shops under the Coop 365 brand name.
The grocery chains Brugsen and Kvickly will be merged, but which brand name and at which locations has not yet been decided.
In total there are 301 shops with 66 under the Kvickly brand name and 234 Superbrugsen with a combined turnover of DKK 25 billion.
The two chains Irma and Dagli'brugsen will be continued.
The article continues below.
Dagrofa
Owns the supermarket chains Meny and Spar.
Dagrofa, which for many years had wholesale and Food Service as its main business focus, is owned by three different partners; Norgesgruppen (49 percent), KFi-erhvervsdrivende Fond (41 percent) and by the independent grocery owners (10 percent) who run their grocery shops under the Meny brand.
In the greater Copenhagen area, these are for instance the Meny ROTUNDEN in Hellerup as well as Dahlsgaard in Hørsholm.
The article continues below.
Reitan
Is a Norwegian group and in Denmark, Reitan owns the discount chain Rema 1000 with 350 Rema 1000 shops as well as 189 convenience stores (in Danish language called kiosk) under the 7-Eleven brand name.
Rema 1000 shops are run on a franchise basis and Reitan plans to open up to 400 Rema 1000 shops in Denmark.
The name 1000 is derived from the 1,000 stock-keeping units sold in their shops.
German discounters
There are two, Aldi and Lidl – still small in terms of market share. Aldi has 220 shops and Lidl 107.
Read more about the discount market below.
The discount groceries market
With a 40 to 41 percent market share of the total Danish grocery market, a large proportion of the Danes' total groceries shopping basket is bought at discounters.
This development has been notable since the financial crisis; in 2007 discounters' market share was "only" 28.8 percent.
A range of discount chains battle fiercely over market share.
However, for some years, the discount chain Netto, owned by Salling Group, has been the market leader with approximately 35 percent share of the total discount market.
Getting valid market share figures for the different discounters' share of the discount market is difficult as market shares are well guarded secrets.
In the latest public figures we could find, Netto's share of the discount market is estimated to be 35 percent of the discount market with a 15 percent share of the total grocery market.
Second after Netto, so they claim, are Rema 1000 which would bring them to 25 to 30 percent market share of the discount market.
In Denmark it has become something quite common and normal to shop at a discounter. When Netto was first launched, many people took more fancy shopping bags with them, such as IRMA bags, when they went shopping, thus being able to put the cheap goods into a higher end brand bag.

But now, many discounters have very good quality brands and products, and some of the renovated discount shops are even better looking than traditional grocery stores.

Therefore many consumers no longer perceive them as discounters but just as supermarkets,"retail expert Dorte Wimmer said to Berlingske Business.
NORMAL is a discount chain selling hair products, body care products, cosmetics and other household supplies in competition with Matas and the supermarkets also selling these items.
They are able to compete on price by parallel importing brands and products from large wholesalers outside Denmark.
Netto aims to further expand and consolidate its position as the absolute discount market leader in Denmark and all of its renovated shops are designed differently, with a visual facelift and a restructuring of the way the shops are organised. CEO, Per Bank, believes that customers want a better shopping experience even in the discount sector.
Netto's brand extends to other European markets. In the Swedish Netto test shops, a 30 percent rise in turnover was seen in those that had had the facelift.
If you have ever shopped in Netto or Fakta, you will know that discount shopping is not necessarily a great experience; many shops are messy and badly laid out, and the selection of brands and products limited. Products are often stored in cardboard boxes rather than on shelves.
In Netto, the section with special offers called "Spot Varer" takes up 40 percent of the space in a very disorganised way.
According to Per Bank, this will all change over the next couple of years in Netto as the facelift is phased in.
TIPS to help you get cheaper groceries

The most important rule: You cannot get all you need in one shop, you also have to shop at the discounters; many Danes get their basics here and shop for other grocery items at one of the regular supermarkets or go to a speciality shop.

Read the tilbudsaviser( the special offers flyers) and take note whenever there are deals to be made on brands you normally buy. Every supermarket and discounter has them. The offers are based on sales for a week, typically starting on a Saturday and ending Friday unless it is a special weekend offer. They are all published online as well.  Find a link to a few of them here: Netto,  Fakta,  Irma , Meny, Rema 1000.

Buy larger quantities at lower prices and split with friends if you don't have storage space.

Support our magazine with a contribution of any size

We hope that you enjoy the information, insights and inspiration that we provide. We are a small team and we would like to keep delivering high quality, interesting articles for you to enjoy and your support will help Your Danish Life to continue to produce relevant content for expats in Denmark.

We do not want to put up a pay-wall, so we need your support and if you find our content relevant and worthwhile, we would value any contribution, however big or small, as a token of your appreciation of our efforts.

How to support:
Transfer any contribution to our bank account at: Your Danish Life/ Danish Expat Media Aps
Danske Bank Account number: 3409 11405673
IBAN: DK68 3000 0011 4056 73

or MobilePay to 2144 1224

Message: Support