Six small pearls of inspiration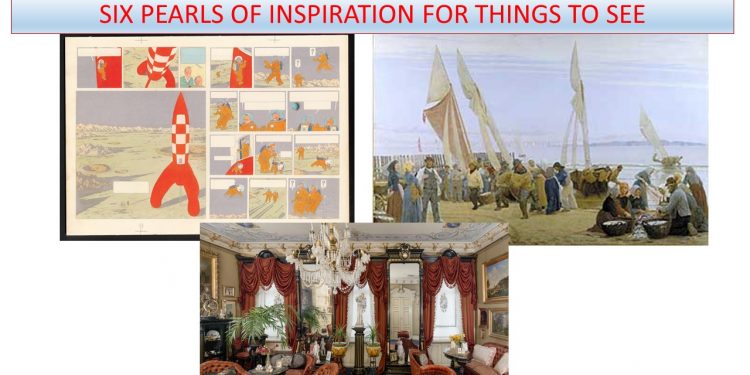 During this indoor season – explore some of Denmark's many museums. However, rather than following in the footsteps of tourists by only going to the most well-known ones, why not explore some that give you a great insight into the culture and history of the country you are now living in? We have selected six small pearls of inspiration for you.
The article continues below.
1 Greve Museum – is located in beautiful old farm buildings dating back to the time when this part of the countryside south of Copenhagen was surrounded by heath. The museum tells the story of the 19th century heath culture and the slow development from heath farm and countryside to the 20th century suburbs. Open Tuesday to Sundays from 11:00 to 15:00 (weekends until 16:00). Location Bækgårdsvej 9, Greve – more information at grevemuseum.dk.
2 BRANDTS – is Denmark's first museum focusing on the visual arts – international photography, film and drawings. Its collection encompasses more than 15,000 pieces of art – some of which are from renowned international artists, photographers and visual artists. In the many changing exhibitions, you can explore the visual art form that influences our modern lives. The permanent collection offers a journey through 250 years of Danish art – created by artists from 1750 until today. In the current hanging of the collection, the spotlight is turned on a number of the museum's most striking names from the history of Danish art. Another exhibition, running until 31 January 2018, is of the acclaimed US photographer and filmmaker Sam Shaw (1912-99). His most famous picture is the iconic image of Marilyn Monroe in her white dress, standing above a New York subway grating. Famous for motifs from his home city of New York, many of his photographs became front-page covers of magazines in the 1950s and 60s. Or the Hergé exhibition opening 23 March, the exhibiotopn presents trea­sures in the form of orig­i­nal draw­ings and sketches for Hergé's fa­mous comic al­bums about Tintin's ad­ven­tures. as well as the lit­tle-known side of Hergé as an artist and ad­ver­tise­ment il­lus­tra­tor with a pas­sion for con­tem­po­rary art. Open Tuesday to Sunday from 10:00 to 17:00 (Thursday from 12:00 to 21:00). Location: Brandts Torv 1, Odense – more information at brandts.dk.
The article continues below.
3 The Hirschsprung Collection – is the collection founded by the Danish tobacco manufacturer Heinrich Hirschsprung (1836 – 1908). He originally concentrated on art of his own time (Zahrtmann, Hammershøi, Philipsen), but his interest gradually spread to encompass the previous generation of artists, the painters of the Danish Golden Age (Eckersberg, Købke, Marstrand, Lundbye). In addition, the Nordic painters, Skagensmalerne, gained his interest. He was good friends with the famous painter P.S. Krøyer, resulting in an impressive collection of Krøyer's works, all on display here. In 1902, Hirschsprung decided that after his death, his collection should pass into public ownership and the current museum was built to house his collection. The museum is unique in the sense that it has created a homely atmosphere, as was the wish of the donator of the more than 700 pieces of art. Open Wednesday to Sunday from 11:00 to 16:00. Location: Stockholmsgade 20, Copenhagen Ø – more information at hirschsprung.dk.
4 Klunkehjemmet – gives you a glimpse into the late 19th century home, in England known as the Victorian home. What makes this museum so unique is that it is a real lived in home, preserved by the owners until their death in 1963. It still looks exactly as it did when it was newly refurbished in 1890 and the Rudolph Christensen family moved in. Rudolph Christensen's daughters, Gerda and Ellen, continued to live in the apartment until their deaths, respectfully preserving their parents' home. The Christensen sisters left the unique contents of the property to the National Museum, which had surveyed and photographed the apartment in 1942. With the kind permission of the current owners of the building (the apartment lies on the second floor), a limited number of visitors are able to see the apartment in its original surroundings. Opening hours with guided pre-booked tours only on Saturdays, Sundays and public holidays at 11:00, 12:00, and 13:00, recommended for children only from the age of six years-old. Location: Frederiksholms Kanal 18, Copenhagen K. Tickets, at billet.natmus.dk, should be purchased at least a week in advance. Guided tours in English are not available during the winter – however it is still worth a visit. Meeting point: The national museum's front hall – more information at natmus.dk/museerne/klunkehjemmet.
The article continues below.
5Textilmuseet – is located in what was called Herning Klædefabrik in the heart of where Denmark's former large textile manufacturing industry was located. The old industrial buildings from 1876 have been magnificently restored, and transformed into a textile museum. The museum tells the story of textile production as it was, and as it is today – locally and globally. Old machines are on display, and even turned on for special occasions to give visitors a real sense of what it was like to work with them. Open Tuesday to Sundays from 10:00 to 16:00. Location: Vestergade 20, Herning – more information at museummidtjylland.dk.
6 Frøslevlejren – the Frøslev Camp was built in 1944 as a German internment camp by the Germans during the occupation of Denmark. It is today one of Europe's best-preserved Second World War prisoner of war camps. Several thousand Danes were imprisoned here by the German security police due to an agreement made to avoid the deportation of Danes to concentration camps in Germany. However, despite the agreement, around 1,600 prisoners were sent to German concentration camps. In the days of the liberation, there was an urgent need for internment options for the thousands of Danish citizens, whom the Danish Resistance movement suspected of enemy activities. The Frøslev Camp's many barracks seemed perfect for this purpose and this new camp was subsequently renamed the Faarhus Camp. The Frøslev Camp Museum contains an exhibition also about this period, only opened in 2013. Open Tuesday to Sunday from 9:00 to 16:00 – it is closed in December and January. Location: Frøslevlejrens Museum, Lejrvej 83, Padborg. Part of the Danish National Museum – information at en.natmus.dk.
By Bente D. Knudsen  Pictures: PR/Brandts, Hirschprungske Samling, Nationalmuseet.
Lego House in Billund is also a nice excursion