Smørrebrød – a quintessentially Danish delicacy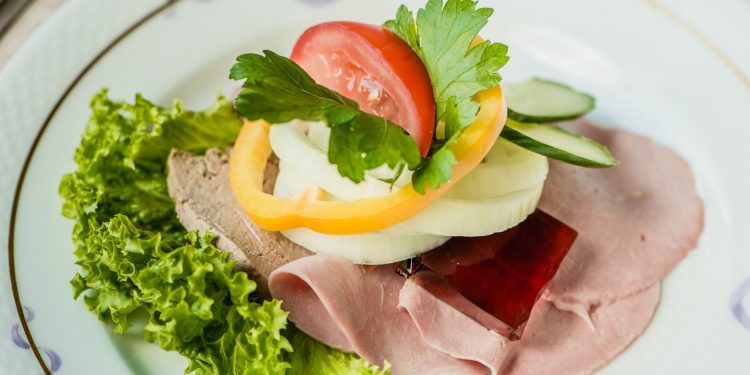 Are you new to the world of smørrebrød or do you just find them a bit daunting? We have sampled some of the best eateries around to guide you through this very Danish meal.
The article continues below.
By Louise Chamberlain                    Pictures:Mayra Navarrete
Smørrebrød have been eaten in Denmark since the early 19th century when lunch was the main meal of the day for the largely agricultural working population.
The open sandwiches consisted of rye bread topped with the previous evening's leftovers and were a pretty rustic affair. Later, as the workforce started to move into factories, people needed a packed lunch to eat at work and smørrebrød fit the bill perfectly.
They made a portable, nutritious and filling meal.
The article continues below.
Towards the end of the 19th century, smørrebrød started to become the more sophisticated lunch speciality that we know today; elaborate creations that look almost too good to eat.
From fairly humble beginnings, smørrebrød are now firmly established in the Danish gastronomic tradition. They are served everywhere from fine dining restaurants to tiny hole-in-the-wall takeaway outlets. They also form an important part of the table at family celebrations.
Danes are sticklers for rules and the nation's favourite open sandwiches are no exception. Before you embark on your first smørrebrød experience, it would be wise to familiarise yourself with "smørrebrød etiquette".
The article continues below.
Always use a knife and fork – these may be sandwiches but they are definitely not finger food.

No picking from other people's plates. This is not tapas!

Follow the correct sequence when eating multiple smørrebrød. Remember to "swim before you fly".

Start with herring before moving on to other fish. Eat meat next and finish with cheese.

Skål!

Toast frequently, preferably with a glass of ice cold schnapps, and don't forget to look your dining companions in the eye as you do so.
The article continues below.
There are so many places to enjoy delicious smørrebrød that we are truly spoiled for choice. Here is a roundup of some of the best.
Restaurant Schonnemann: This Copenhagen institution has been feeding hungry Danes since 1877. The first customers were farmers from Amager, Brønshøj and Husum who tethered their horses in the market square while they tucked in to a plate of pickled herring and a flagon of beer. Things are a little different now.
There are over 110 freshly prepared smorrebrød to choose from and, if that choice is not overwhelming enough, the drinks menu boasts a list of over 140 different kinds of schnapps to wash them down with. Restaurant Schonnemann is a restaurant critic's favourite and you will need to book in advance to secure a table.
Ida Davidsen: In 1888, Oskar Davidsen opened a restaurant serving 177 different types of smørrebrød. Five generations later, the restaurant is named after his granddaughter, Ida, and is one of the most popular places in town to enjoy a low-key smørrebrød experience.
The menu has grown to 250 different dishes but smørrebrød novices need not worry. An example of each of the day's choices is on display in a glass cabinet so you can see exactly what you are ordering. The restaurant is open for lunch Monday to Friday and a reservation is recommended.
Husmanns Vinstue: Despite the name (vinstue means wine parlour in Danish) there isn't a great deal of wine involved in this grand old lunch restaurant founded in 1888 and located in a cosy cellar in the infamous Latin quarter of Copenhagen – Lars Bjornsstræde.
They don't even advertise wine, claiming that "a traditional Danish lunch is best enjoyed together with beer and schnapps".
Husmanns Vinstue has gained a reputation for serving a traditional Danish lunch in a relaxed and down to earth atmosphere. No white tablecloths here, however the food is served by immaculately dressed waiters.
A family business, the next generation is getting ready to take over. Be prepared to book in advance on Saturdays as this is a favourite.
Café Petersborg: One of the oldest restaurants in Copenhagen, Café Petersborg dates back to the mid-1700s.
The building originally housed the Russian Embassy and the restaurant was popular with Russian sailors, which explains the rather un-Danish name.
Café Petersborg is a good choice if you want an authentic and slightly more casual smørrebrød experience. Its traditional décor and antique china creates a cosy atmosphere that feels like a trip back in history.
Aamanns:  A relative newcomer, Adam Aamann opened his smørrebrød deli and takeaway in 2006 and the restaurant next door followed in 2009. However, Aamann has been credited with the revival in the popularity of the humble open sandwich, which had fallen from favour somewhat over time.
His focus on healthy local ingredients with an innovative twist helped to bring this traditional food back into fashion. As well as the traditional smørrebrød, there are some interesting options such as herring & strawberries!
The deli is a somewhat cheaper and more relaxed alternative to the restaurant, but both are very popular.
Grøften: If you want to try smørrebrød and are eating with children in tow, family-friendly Grøften is a great choice. The restaurant is situated in the middle of Tivoli and is one of the oldest restaurants in the gardens.
The walls are decorated with pictures and photographs documenting the restaurant's long history and its connection with the pantomime theatre.
Back in 1874, Grøften was known as the Theatre Café, and the original theatre café is still at the rear of the restaurant. The smørrebrød menu is full of traditional favourites but, if the children are squeamish about pickled herrings and raw onion, then there is also a nice children's menu available.
Support our magazine with a contribution of any size
We hope that you enjoy the information, insights and inspiration that we provide. We are a small team and we would like to keep delivering high quality, interesting articles for you to enjoy and your support will help Your Danish Life to continue to produce relevant content for expats in Denmark.
We do not want to put up a pay-wall, so we need your support and if you find our content relevant and worthwhile, we would value any contribution, however big or small, as a token of your appreciation of our efforts.
How to support:
Transfer any contribution to our bank account at: Your Danish Life/ Danish Expat Media Aps
Danske Bank Account number: 3409 11405673
IBAN: DK68 3000 0011 4056 73
or MobilePay to 2144 1224
Message: Support
Locations:
Aamanns Deli &amp Take Away, Øster Farimagsgade 10, 2100 Copenhagen.Phone:35553344 www.aamanns.dk
Café Petersborg, Bredgade 76, 1260 Copenhagen.Phone:33125016 www.cafe-petersborg.dk
Grøften,Vesterbrogade 3, 1620 Copenhagen.Phone:3375 0675 www.groeften.dk
Husmanns Vinstue,Larsbjørnsstræde 2, 1454 Copenhagen.Phone:33115886 ww.husmannsvinstue.dk
Ida Davidsen,Store Kongensgade 70, 1264 Copenhagen.Phone:33913655 www.idadavidsen.dk
Restaurant Schonnemann,Hauser Pl. 16, 1127 Copenhagen.Phone:33120785 www.restaurantschonnemann.dk
Outside of Copenhagen we can recommend
Værtshuset Sankt Peder in Hellerup, Sankt Peders Vej 2, 2900 Hellerup. Phone:39611187
Kähler Spisesalon in Aarhus, M.P. Bruuns Gade 33,8000 Aarhus. Phone:86122053
Kohalen in Aarhus,Jægergårdsgade 154, 8000 Aarhus. Phone:86121481
Teaterbodegaen in Aarhus, Skolegade 7, 8000 Aarhus. Phone:86121917
F – Høj in Aarhus,Grønnegade 2, 8000 Aarhus. Email: deli@frederikshoj.com