Stop the prayers and get ready for a party – join the 48 hour Nørrebro Festival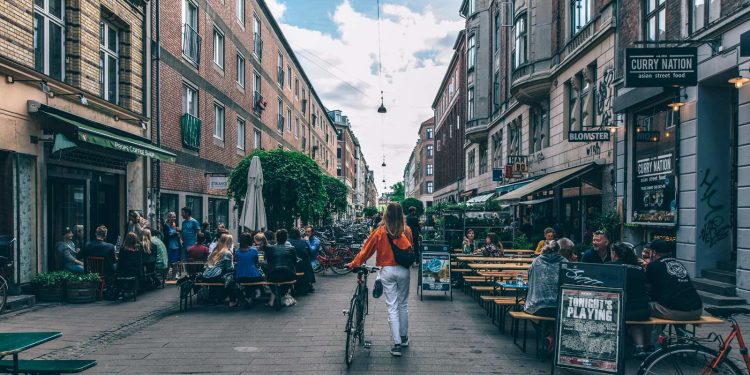 Copenhagen's "backyard" and culturally diverse district, Nørrebro, once again presents the 48 hour festival, 48TIMER FESTIVAL. This weekend, with big and small as well as fun and unconventional cultural activities, Nørrebro invites all to visit and explore the hidden treasures of one of Copenhagen's most exciting neighbourhoods.
The article continues below.
Nørrebro used to be the "poorer" working district of Copenhagen but has in recent years seen its housing and apartment buildings, as well as squares and parks,  heavily renovated thereby transforming itself  into a new hype place to live.
One of most cosy streets is Blågårds gade, which runs from  Nørrebrogade to Blågårds Plads (square). It is filled with restaurants, coffee-shops, wine bars, and several music spots.  The 48 timer festival takes place in this area, with a main centre point being the square at Blågårds Plads.
As the name says it is a two day festival running from 27 to 29 April, with a big and free kick off event starting on Friday 27th at 14:00.
The aim of the festival is to make visitors discover and learn more about Nørrebro's entrepreneurial spirit and cultural diversity.
"We don't always get that option to get all the active people in the neighbourhood come out and meet each other in a festive kind of mood. So that's what the festival provides: Everyone comes out and celebrates that day for the neighbourhood, " says Saimon from "BRØL" one of Nørrebro's entrepreneurs and cultural actors.
Nørrebro's local cultural actors are looking forward to showing visitors their favourite neighbourhood and they hope to repeat and even exceed last year's success.
In 2017, the festival had more than 100 Nørrebro-"actors" participating and about 90 unique cultural events that attracted more than 15,000 visitors.
The article continues below.
Opening event
The festival will kick off 48 hours of fun and entertainment on Friday (27th April) at 14:00 at Blågårds Plads with food, drinks & music. The opening lineup was curated in close cooperation with ALICE.  From 14:00 to 17:00 local DJ's and other musicians will warm-up until the evenings music performance starts at 17:00 with the Brazilian rhythms from Nomade Orquestra, a band of ten musicians ready to create Brazilians rhythms mixed with jazz tunes and funky guitars.
ALICE is the merger  of two well known Copenhagen music scenes – one of them the famous Copenhagen Jazzhouse.
Since its opening in February 2018 at Nørre Alle 7, ALICE has become one of the city's new important music scenes and their connections and experience has helped the festival attract international names. The party continues at Nørre Alle 7 after the opening event at Blågards Plads.
Expect a whole host of engaging activities at Blågårds Plads. Concerts, DJ´s, food, drinks and much more.
ALICE // 48 TIMER
Blågårds Plads, 2200 Copenhagen
27 April from 14:00-22:00
Free entrance – DJ-warm up until 17:00 and live music on stage from 17:00 until 22:00
More information about the 48 hour festival and all the events here.  They also have a Facebook page with updates here.