Storm Malik slowly passes out of Denmark; rising sea-levels the next danger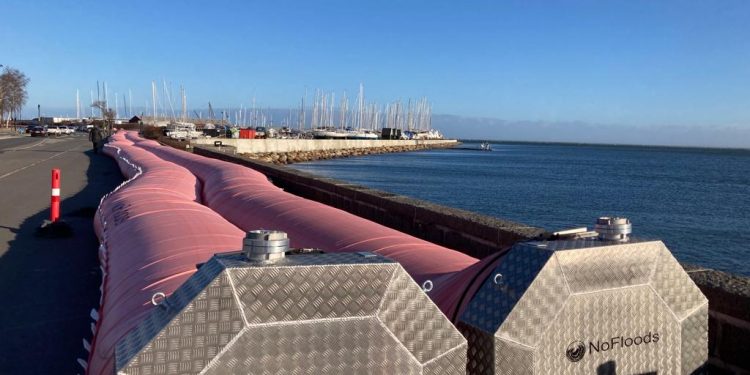 After a very windy Saturday evening and early Sunday morning, the sun is shining over most of the country, however DMI continues to warn of dangerous weather, after the wind, water is the problem.
The article continues below.
By Bente D. Knudsen
By Bente D. Knudsen
Strong winds have blown over most of Denmark the past 24 hours and now water will be the next problem for the internal Danish waters.
Sea levels are expected to rise to several meters above normal levels and in some areas, flooding is already a pressing problem.
DMI has issued a warning for all of the internal Danish waters and the coastlines along them. Internal waters are Kattegat, Lillebælt, all coasts around Funen and all internal islands, Zealand and the fjords such as Isefjorden (Roskilde lies at the end of it)
Water levels are expected to rise between 1.3 to 1.9 meters above their normal levels. The warning lasts most of Sunday and into Sunday night and early Monday morning for the areas most at risk such as the internal fjords. The Viking museum in Roskilde is again in danger of being flooded but efforts have been made to protect the orignal old vikingships.
The storm has had huge impact on traffic. Trains and ferries have been cancelled and bridges have been closed.
The situation is slowly normalising and both the Øresundsbro and Storebæltsbroen are open again, however still closed for wind sensitive vehicles.
The article continues below.
By Bente D. Knudsen
Sun has replaced the grey rainy day and night. DSB announces that trains are again running on the stretches that had been closed, with delays.
Many PCR and Quick test centres closed on Saturday afternoon to prevent danger, most of the test centres are placed in tents, or partly in tents.
The Copenhagen test centres announce that they expect to reopen at 15:00 today Sunday and ask residents to try to space out their arrival, if possible, to avoid crowds when they open.
Other neighbouring countries round Denmark have also been impacted by the strong storm winds, some with gusts of wind of hurricane strength such as the United Kingdom, Northern Germany, Norway and Sweden.
The storm system has been named MALIK, which in Greenlandic means wave.
Support our magazine with a contribution of any size
We hope that you enjoy the information, insights and inspiration that we provide. We are a small team and we would like to keep delivering high quality, interesting articles for you to enjoy and your support will help Your Danish Life to continue to produce relevant content for expats in Denmark.
We do not want to put up a pay-wall, so we need your support and if you find our content relevant and worthwhile, we would value any contribution, however big or small, as a token of your appreciation of our efforts.
How to support:
Transfer any contribution to our bank account at: Your Danish Life/ Danish Expat Media Aps
Danske Bank Account number: 3409 11405673
IBAN: DK68 3000 0011 4056 73
or MobilePay to 2144 1224
Message: Support