Students' truck ride saved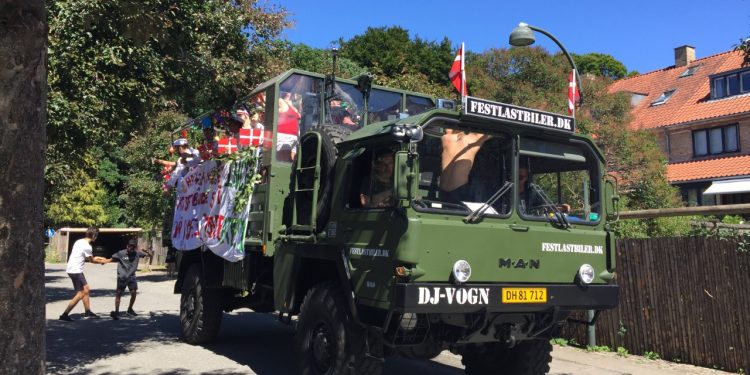 Much to their relief they will be allowed to embark on the traditional truck ride to celebrate their cap.
The article continues below.
By Bente D. Knudsen
It's an old tradition – the truck ride to celebrate their graduation from the Danish three-year gymnasium time.
Due to the outbreak of the epidemic these rides were banned, and most students feared that they would miss out on the culmination of three years of hard work.
Getting their caps and making the traditional truck drive through their hometown whilst visiting everyone's parents is something which Danes talk about many years later when they reminisce on their Danish gymnasium years.
Fortunately the Danish Minister for Education decided last week that the truck ride was to be saved at the expense of the traditional large scale celebration, instead of meeting for a joint graduation ceremony with all the graduates and their families, the celebration is to take place in classrooms only.
But the graduates do not mind, the truck ride was the most important part of their celebration they wanted to be saved.
So, starting from end of June you will see them again: joyful graduates driving around the streets of your town with loud music and honking horns.
You can read more about the cap and all the traditions associated with it here.
Support our magazine with a contribution of any size
We hope that you enjoy the information, insights and inspiration that we provide. We are a small team and we would like to keep delivering high quality, interesting articles for you to enjoy and your support will help Your Danish Life to continue to produce relevant content for expats in Denmark.
We do not want to put up a pay-wall, so we need your support and if you find our content relevant and worthwhile, we would value any contribution, however big or small, as a token of your appreciation of our efforts.
How to support:
Transfer any contribution to our bank account at: Your Danish Life/ Danish Expat Media Aps
Danske Bank Account number: 3409 11405673
IBAN: DK68 3000 0011 4056 73
or MobilePay to 2144 1224
Message: Support