The perfect getaway – a weekend on Møn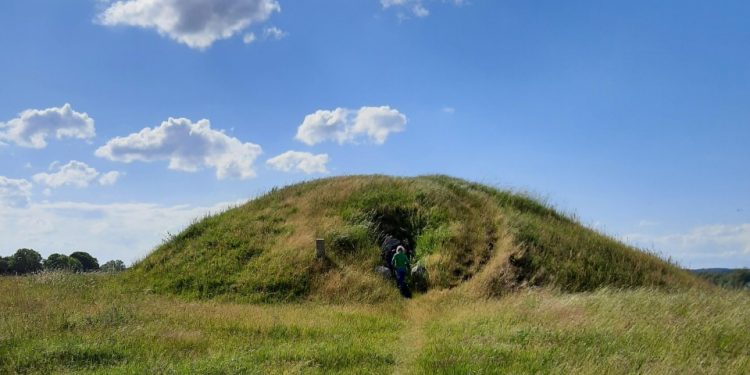 Find our best tips for a delightful excursion to Møn, just a short drive from Copenhagen.
The article continues below.
Pictures and text by Pippa Thompsen
With its lush farmland, gently rolling hills and dramatic cliffs, Møn feels a world away from Copenhagen, rather than just 90 minutes' drive. It's a small island, but with plenty to see and do, making it the perfect escape for a long weekend.
We visited at the beginning of June.
The article continues below.
The island's main town is Stege, a picturesque old market town, with a harbour, quaint yellow-painted buildings, plenty of cafes and its own brewery. Restaurant Bryghuset Møn, serving burgers and the locally brewed beer, and David's a light and airy cafe, were the most popular spots to eat. From 21 April 2021, they will be able to open again with service on their outdoor terrace.
We opted to stay in an old thatched cottage set amongst fields and pretty much in the middle of the island, where we could watch hares and birds from the windows and hear nothing but birdsong in our surroundings.
Our checklist of must-dos on Møn included medieval frescoes, Neolithic burial sites, ancient beech forests, artists' studios and of course, the famous cliffs of Møns Klint.
The article continues below.
Day One saw us at Elmelunde Kirke, the oldest church on the island. The existing church dates back to the 11th century but the frescoes – by an unknown artist known as "the Elmelunde Master" – for which it is famous, are from the 15th century.
These frescoes were protected for hundreds of years by whitewash, used to cover them during the Reformation and so are extremely well preserved. Children will enjoy spotting the lion, a unicorn, and a very strange looking owl!
Next stop was Fanefjord Skov. Here, beautiful beech woods run right down to the beach.
In late spring, gently dappled sunlight filters down through the fresh green leaves and the sound of gentle Baltic waves mingles with songbirds. It was a truly beautiful place, made even more so by having it all to ourselves.
An added bonus – for the children – was the huge number of giant slugs making their way along the paths. We couldn't figure out where to!
The late afternoon sun persisted so we made our way to an even smaller island – Nyord – from the Ulvshale peninsula, home to the lovely, sandy Ulvshale Strand.
Nyord is only about 5km2 but its surrounding marshland is a haven for birds and very popular with bird watchers. The tiny village of Nyord boasts a few shops selling arts and crafts plus Lolles Gard farm and restaurant, where you can eat in a beautiful garden whilst swallows circle overhead.
The article continues below.
Day Two was all about burial sites. Mon was the site of much Neolithic activity and boasts passage graves, long barrows, cairn chambers, burial mounds and menhirs, many of which can be visited.
Most famous is Kong Asgers Hoj. Around 4,000 years old, and 10 metres long, this is one of the largest passage graves in Denmark. It occupies a beautiful spot, overlooking the Fane Fjord. If you're daring (and small enough) you can go right inside the grave, but bring a torch – it's very dark!
The cairn chamber of Sprove Dysse is found a short walk from Kong Asgers Hoj and is much easier to get inside (which seemed to be the main goal of our children with each site we visited!) This grave site features "cup marks" in its stones, also found in vast numbers on the stones of Sømarkedyssen (near Magleby).
These marks are thought to be sacred signs of a Bronze Age fertility cult.
There are many more burial sites on the island and excellent information about these can be found here 
The article continues below.
On our last morning, we headed to Møns Klint. The gorgeousness of the views here – white chalk cliffs against perfect turquoise waters – really can't be overstated.
Walking amongst the beech woods on the cliff tops you find yourself stopping at every viewpoint to capture the contrasting colours. We have visited at various different times of year but late spring, when the leaves are still their fresh, new green, must provide the most glorious mix of colours.
We were lucky enough to meet world-renowned ornithologist and author Niels Peter Andreasen, who showed us the nest of a peregrine falcon, with three nearly fledged chicks.
These amazing birds nest on the cliffs at Møns Klint every year with chicks hatching in early May and leaving the nest around mid-June.
This was an utterly amazing sight and we felt incredibly lucky to have glimpsed these rare birds.
After lunch at the (excellent) cafe at Møns Klint, we went down to the beach at the bottom of the cliffs. The chalk/flint combination is excellent for finding marine fossils and we found lots of fossils of shells plus one of a tiny fish, about 5cm long.
The Geo Center was closed during our visit but offers an excellent introduction into the geological history of Denmark. (It reopened on 8 June 2020.)
After climbing back up the 992 steps to the cliff top, we were in need of ice cream so our final stop for the weekend was Møn Is.
Here, ice cream is made on the dairy farm where the milk is also produced. Visitors can see cows being milked and meet calves before tucking into the delicious ice cream. Salted caramel was our family's favourite!
With such a great mix of natural beauty, historical sites and great ice cream, a weekend on Møn really is a perfect getaway.
Support our magazine with a contribution of any size
We hope that you enjoy the information, insights and inspiration that we provide. We are a small team and we would like to keep delivering high quality, interesting articles for you to enjoy and your support will help Your Danish Life to continue to produce relevant content for expats in Denmark.
We do not want to put up a pay-wall, so we need your support and if you find our content relevant and worthwhile, we would value any contribution, however big or small, as a token of your appreciation of our efforts.
How to support:
Transfer any contribution to our bank account at: Your Danish Life/ Danish Expat Media Aps
Danske Bank Account number: 3409 11405673
IBAN: DK68 3000 0011 4056 73
or MobilePay to 2144 1224
Message: Support