They are blossoming: the magnificent Japanese cherry trees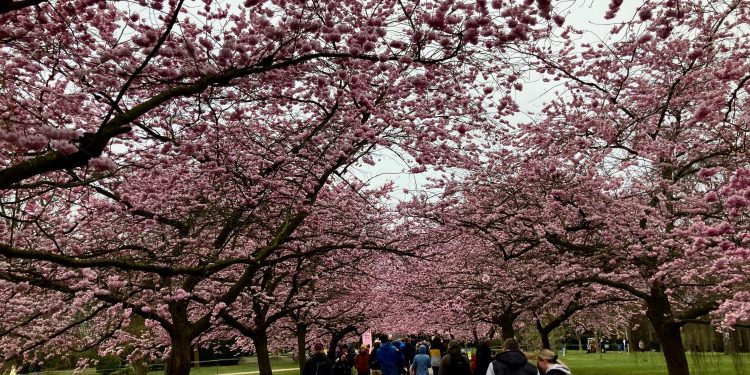 Already out in many places,this is a special sight; the boulevard of magnificent pink cherry trees.
The article continues below.
By Bente D. Knudsen
They are a very short-lived joy; they only stay on for a few weeks, sometimes less if there is much wind and heavy rain.
You will find the pink flowers on Japanese cherry trees around in the gardens of old villas from the 1920s and 1930s in Copenhagen, Frederiksberg, Hellerup, Charlottenlund, parts of Aarhus and Odense too.
Apparently they are too pink to be "real" Japanese cherry trees, however, in Denmark, they are known as Japanske Kirsebærtæer.
If you do not feel like cycling around, peeping over hedges or climbing fences to see them, take advantage of some of the public places where they are in abundance.
The most spectacular sight is the cherry tree "boulevard" of the old cemetery on Bispebjerg.
It has become extremely popular to go, around 150,000 visitors visit the site during normal years in.
A good tip would be to go during weekdays and early evenings to avoid crowds.
Public access is from 7:00 until 22:00. The municipality asks the public to respect that it is NOT a park but a cemetery and picnic's and blankets do not belong on tombstones.
The trees in blossom are worth it though, as the many visitors seem to confirm.
So maybe take an evening ride to Bispebjerg Kirkegaard after the next days of sunshine to seem them in full bloom.
The article continues below.
Less awesome, as there are fewer trees, is the sight in Kongens Have in the midst of Copenhagen, but not less beautiful of course, or in the Frederiksberg small public park just off Falconer Alle called Hostrups Have.
Another good place to go is the park at Langelinie called Kirsebærlunden.
This park consists of 200 so-called real Japanese cherry trees, which were a donation to the city of Copenhagen from the Japanese Consul, Seiichi Takaki, in celebration of H.C. Andersen's 200th birthday.
Mr. Takaki is also the Chariman of the famous Japanese bakery chain called Andersen.
The Andersen Bakery was founded in 1959 by the then president Shunsuke Takaki after a visit to Europe and a life-changing encounter with Danish pastries!
The flowers are not as pink as the ones normally found in Denmark, at Langeline they have a much less bright pink colour.
The article continues below.
At Langlinie there is at the end of April every year a cherry tree festival, a colourful and spectacular event, The Sakura Festival. In 2022 it is again possible to arrange the event which will take place on 23 and 24 April. More information here.