Things to do for Easter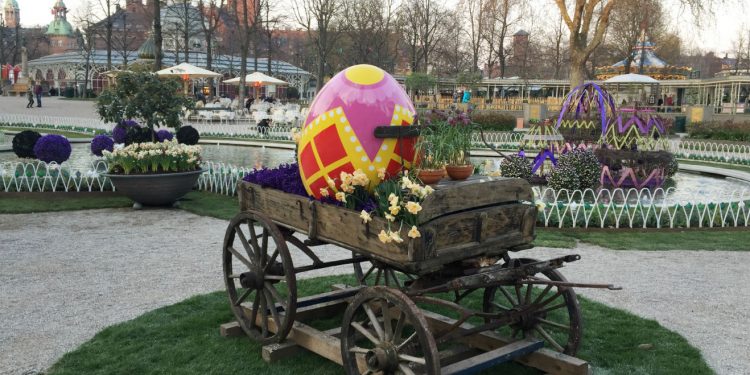 Despite the closure of shops during the bank holiday, there is no shortage of things to do. Find here our tips and ideas on how to enjoy Easter in Copenhagen.
By Sehrish Haq and Bente D. Knudsen
Tivoli of course
The old summer park is just at its best when the sun shines and the trees turn green.
Visit Tivoli for Easter, beautiful Easter decorations will put you in the mood.  In 2023, Tivoli opens on 31 March.
If you are a Tivoli fan, consider buying the annual pass so you can go as often as you like, if for no other reason, just to enjoy the park and its seasonally changing decorations throughout the year. If you go more than three times a year, the pass pays out.
Remember the fireworks, every Saturday at 23.45, starting  May 2023.
Visit an open-air museum
Denmark's four open-air museums (two on Zealand), one in Odense and one in Aarhus, are a delight and they usually open for Easter, abundant with Easter eggs and old Danish Easter traditions.
Often, they close again after the Easter holiday to reopen for the season starting around 1 May. This is because many of the old houses and barns are not heated and thus not suitable for visitors during the cold season.
We have gathered full details of all of them in our article here.
Visit the Pandas at Copenhagen's Zoo
One of the major attractions are certainly be the Pandas at Copenhagen's zoo. An expensive "gift" to Danish Queen Margrethe, they are here on 15-year lease, costing annually DKK 6 million in lease fee.
They are a huge attraction for the zoo. Spring time also means lots of lovely animal "babies ", so the zoo is certainly a place worth visiting for Easter. If you have children, they will delight in the children's playground right next to the hippopotamus house.
Day trips outside Copenhagen
If you are in Copenhagen for Easter, consider doing a day trip to one of the lovely towns of Roskilde, Køge or Dragør. Both Roskilde and Køge are easy to reach by train, and from Kastrup you can take the bus to Dragør, or take your bicycle the last stretch.
In Roskilde visit the impressive Roskilde Domkirke, here all the Danish royals have been buried, the sarcophagus for present Queen Margrethe is also on display here ( it was also made ready for her husband the late Prince Henrik, but he decided to be cremated and have his ashes spread instead).
Køge is a delightful small market town with a large open square and old houses, whereas Dragør's yellow Dutch style cottages all reflect the influence of Dutch immigrants who came to Denmark to cultivate the King's fields. Find out more about these easy to do day trips in our article here.
Blooming Cherry trees at Bispebjerg Cemetery
A magnificent alley of pink Japanese cherry trees attracts more than 150,000 visitors annually, both Copenhageners and tourists flock to this old cemetery to behold and immortalize the sight with their cameras.
So much so that the administration has had to ask guests respect the fact that they are visiting a cemetery. However, it is a beautiful site, so why not take your bicycle for a ride and visit them while the are still in full bloom – usually around mid April. Located: Bispebjerg Kirkegaard.
Support our magazine with a contribution of any size
We hope that you enjoy the information, insights and inspiration that we provide. We are a small team and we would like to keep delivering high quality, interesting articles for you to enjoy and your support will help Your Danish Life to continue to produce relevant content for expats in Denmark.
We do not want to put up a pay-wall, so we need your support and if you find our content relevant and worthwhile, we would value any contribution, however big or small, as a token of your appreciation of our efforts.
How to support:
Transfer any contribution to our bank account at: Your Danish Life/ Danish Expat Media Aps
Danske Bank Account number: 3409 11405673
IBAN: DK68 3000 0011 4056 73
or MobilePay to 2144 1224
Message: Support