Unique online event, Apart Together, focuses on international students in Denmark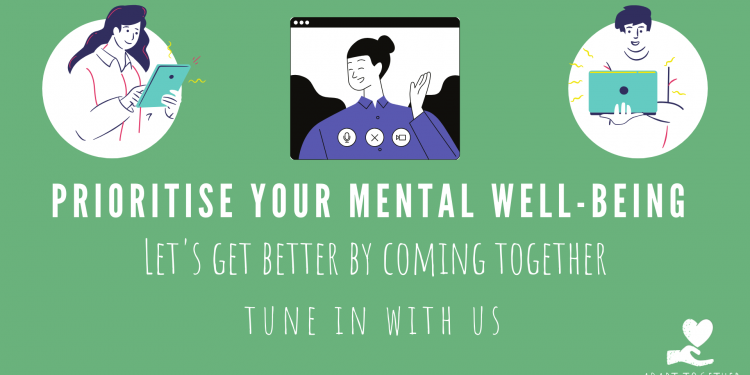 Mental well-being, to help alleviate anxieties, and to provide relevant information during the COVID-19 epidemic are all at the heart of this event on 24 May.
The article continues below.
By Alejandra Atencio
For international students, mental well-being is an extremely pressing issue; they are more vulnerable due to being isolated and away from their homes with fewer opportunities for socialising, often contained mainly to their dorm rooms, they are at a greater risk of serious effects on their mental health during this special time.
Apart Together is an initiative by students from Business Academy Aarhus. The free online event on 24 May from 16:00 to 18:30 is focused on international students in Denmark during the COVID-19 epidemic where new government measures and more time spent at home than usual prevents people from living a normal life.
All these changes in everyday life can cause irritation, discomfort and a feeling of unrest and worry.
With the virus prompting these serious changes within social interaction amongst the Danish population, almost 14 percent being international, anxiety and depression are on the rise.
The article continues below.
This is why Business Academy Aarhus has decided to take measures to gather specialists from various fields, such as the three psychologists, Henriette Johnsen, Regitze Berg and Carlos M.C. Díaz, yoga instructor Rosa Montiel, as well as a representative from HK A-kasse who will provide information in connection with financial and job-related issues.
The event is hosted by Nichlas Walsted, the leader of tech company Swap Language, which has 12,000 users and branches in four countries.
The English language event is a unique opportunity not only to take part in activities aimed at alleviating anxieties and at obtaining relevant information connected with the current situation. The goal of Business Academy Aarhus is to create an online platform where international students can get relevant guidance and support from different mental health professionals and instructors, who provide information and different exercises to help adjust to this new reality and ensure that people stay happy and healthy.
More information at: https://www.facebook.com/events/277855019898367/
When: 24 May from 16:00 to 18:30 online
Support our magazine with a contribution of any size
We hope that you enjoy the information, insights and inspiration that we provide. We are a small team and we would like to keep delivering high quality, interesting articles for you to enjoy and your support will help Your Danish Life to continue to produce relevant content for expats in Denmark.
We do not want to put up a pay-wall, so we need your support and if you find our content relevant and worthwhile, we would value any contribution, however big or small, as a token of your appreciation of our efforts.
How to support:
Transfer any contribution to our bank account at: Your Danish Life/ Danish Expat Media Aps
Danske Bank Account number: 3409 11405673
IBAN: DK68 3000 0011 4056 73
or MobilePay to 2144 1224
Message: Support