Unique opportunity to glide over Copenhagen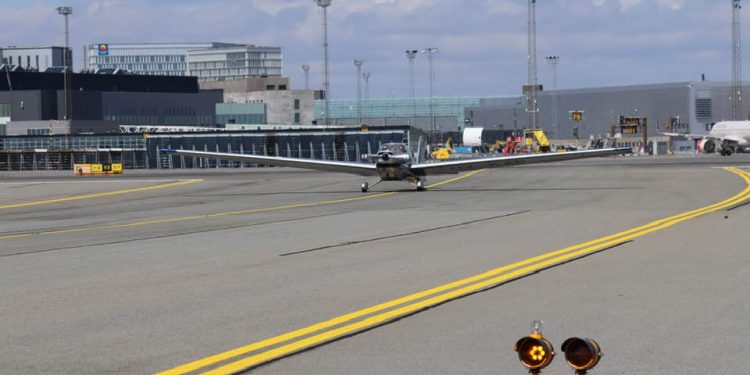 With an airfield at rest and the sky without much traffic, an old vintage glider took off from Copenhagen Airport.
The article continues below.
By Bente D. Knudsen Pictures and video by Jørgen Licht
The camera man responsible for these unique pictures and the amazing video usually works at Copenhagen Airport, an amateur photographer for years and with this opportunity to be the filming passenger, he has shared his experience with Your Danish Life.
Enjoy this unique footage from a coronavirus shut down airport (there are still cargo flights and a few passenger flights but nothing like a usual day in the sky above Copenhagen).
The article continues below.
The glider was built in 1954 and served for 28 years in the Royal Danish Air Force, ending its active military career with a civil registration.
After spending a number of years on ground in a museum the historic flight club, "Dansk Svæveflyvehistorisk Klub" in Arnborg restored it extensively to make it airworthy again.
"It was a great privilege to get a flight on a vintage glider, taking off and landing again at Copenhagen airport,only made possible by the special circumstances. It was a first for a glider to operate out of Copenhagen Airport", Jørgen Licht says about his experience.
To watch a longer video, click on this link to YouTube.
Support our magazine with a contribution of any size
We hope that you enjoy the information, insights and inspiration that we provide. We are a small team and we would like to keep delivering high quality, interesting articles for you to enjoy and your support will help Your Danish Life to continue to produce relevant content for expats in Denmark.
We do not want to put up a pay-wall, so we need your support and if you find our content relevant and worthwhile, we would value any contribution, however big or small, as a token of your appreciation of our efforts.
How to support:
Transfer any contribution to our bank account at: Your Danish Life/ Danish Expat Media Aps
Danske Bank Account number: 3409 11405673
IBAN: DK68 3000 0011 4056 73
or MobilePay to 2144 1224
Message: Support