Vegetarians are in for a treat at Glou Glou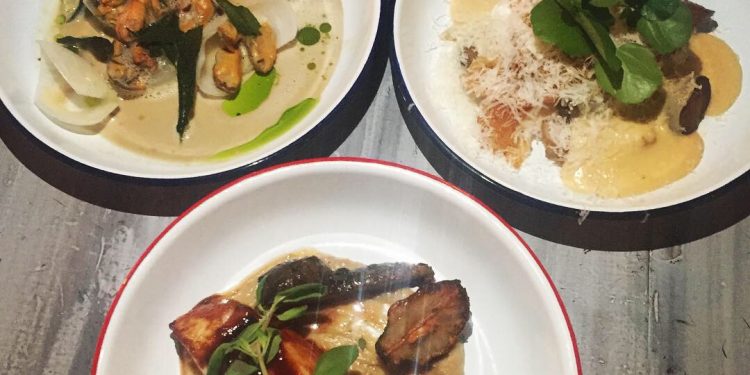 Named Glou Glou, after the sound quality wine makes as it is poured into your glass, the eatery focuses on green dishes and natural organic wines.
The article continues below.
By Susanne Kee
Veteran Copenhagen restaurateur Kenn Husted's new restaurant operates on a 60-30-10 principle; 60 percent vegetarian dishes, 30 percent fish dishes, and 10 percent meat dishes, making the selection wide and open for all.
Along with an a la carte menu, they offer two tasting menus, a vegan/vegetarian option and a pescatarian option and of course an extensive wine menu.
Glou Glou focuses on fresh ingredients, with a spotlight on vegetables.
We visited Glou Glou on a busy Friday night.
The restaurant is a beautiful space, filled with florals, plants, and wines. It is casual and cosy, with servers bustling attentively about.
The article continues below.
We ordered a few dishes from the a la carte menu, and found that the dishes are large enough to share. Dishes can also be customized from vegetarian to vegan.
Standout dishes include the butternut squash flatbread with stracciatella and the baked tomato tartar, confit egg yolk, and dried tomato. The flatbread was a great mix of sweet and savoury. The potato creme, confit potato, poached egg with parmesan cheese was a favourite.
The fish options we tried, the baked onion, sage, mussels in clam sauce and the fried cod with baked Jerusalem artichoke were good as well.
The wine was recommended by our server and was amazing. You can buy wine by the glass or by the bottle to share.
I recommend passing on dessert and treating yourself to another glass of wine or cappuccino. As is the restaurant's aim, the vegetarian dishes and the wine are really the stars of the show.
The article continues below.
Before you leave Glou Glou, pop into the shop attached to the restaurant. Here you can purchase wine, fresh vegetables, bread, and even flowers to take home.
Glou Glou is located in the Copenhagen district of Norrebro at Rantzausgade 22. They take reservations and are open for breakfast, lunch, and dinner.
They are closed Mondays; check the website for additional details.