Warnings again of the risk of rimglatte veje in large parts of Denmark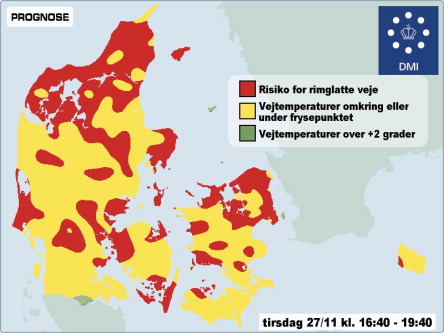 As the afternoon turns colder with temperatures dropping to between 0 and minus five degrees Celsius, DMI is again warning of the risk of icy roads due to the formation of rime ice, what in Danish is called rimglatte veje.
The article continues below.
By Bente D. Knudsen
DMI has again sent out its icy road warning, glatførevarsel, or rime ice warning, this afternoon.  Rime is a rough white ice deposit which forms on vertical surfaces exposed to the wind. It is formed by supercooled water droplets of fog freezing on contact with a surface it drifts past, which means that even if the weather is clear and dry, with no snow or rain, there will be some areas at risk.
For instance in Copenhagen, warnings have been issued on the bicycle bridges crossing the harbour, as the asphalt here often develops rime ice during the late winter afternoons, early mornings when there is frost in the air.
Tomorrow morning it will still be cold, so again in the morning be careful when leaving for work or school. During these weather conditions, with risk of icy roads, the municipalities often spread salt as a preventive measure, since roads and paths then are less likely to form ice/rime ice.
Wednesday is the last day of cold and clear weather with some sun and temperatures between 1 and 4 degrees Celsius, however, during the day the wind will pick up.
As of Thursday, the mild, grey and wet weather will be back with night temperatures above 0 degrees Celsius and day temperatures between five and ten.
You can find the icy road warnings of DMI under  dmi.dk/glatføre.