What's on in March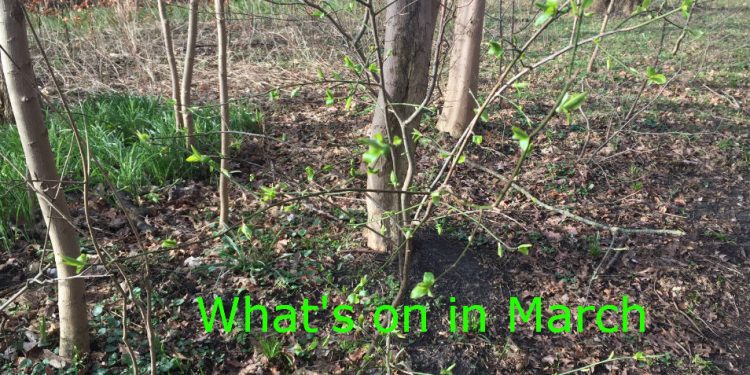 What's on in March? As the first small signs of spring appear, find our tips for things to do.
The article continues below.
What's on in March.
1.
Simply Danish is an amazing exhibition showing the collection of more than 180 pieces of silver jewellery spanning almost 100 years of Danish designers' and silver smiths' work.
The collection was made by a German couple from Berlin and is on tour in Denmark at the "villa" museum in Hellerup, The Øregaard Museum until 21 June 2020.
2.
Amalienborg Museet, the museum palace at Amalienborg castle, has expanded with a new permanent exhibition, the FabergéRoom.
Here amazing pieces of jewellery but also silverware made by the famous Russian gold smith, Faberge under the reign of the czars is out on display. The pieces were gifts from the Russian czars to the Danish royal family, who at the time were related through marriage with them. Permanently at Amalienborg Museet.
3.
Enjoy a Pink Floyd concert on 6 March at the Copenhagen cinema Cinemateket when their performance at Pompeii is shown on all four screens at once. The event is free. Starting at 16:00 with reasonably priced drinks, the show begins at 17:00.
4.
Women's Day is celebrated on 8 March 2020 and to celebrate the occasion the organisation Women on the Move are hosting an event where you can hear eight stores by eight women from eight different countries.
These are women who have made it against many odds to become role models. The event will include speeches, poetries, and music and it will be moderated by Rikke Michala Rønholt Albertsen. Ubuntu House from 16:00 to 18:00 at Købmagergade 43, 1150 Copenhagen.
5.
SMK, Statens Museum for Kunst's spring exhibition features the female artist Anna Ancher, married to renowned Danish Skagens maler, Michael Anker. The couple were part of a surprisingly modern group of both male and female painters, also known as the "impressionists of the north".
Anna Ancher (1859 – 1935) was the only one who grew up in Skagen. Before Anna got married she found a private teacher in Copenhagen, who believed she was truly talented. Some of her paintings can be compared to the work of the French impressionists in the way she puts light into her colours.
Running until 24 May 2020.  Read more about the Skagen's painters in our article here.
6.
On 8 March from 16:00 to 18:00 enjoy the football match between FC Copenhagen – AC Horsens at Telia Parken in Østerbro in Copenhagen. More information here:  or on 22 March from 14:00 to 16:00 when FC Copenhagen – Randers FC play against each other at the same venue. More information here:
7.
If flea markets are your thing take advantage of Hello Vintage, back in Copenhagen 13 to 14 March at DGI-byen, Tietgensgade 65 in Copenhagen. Here you purchase vintage, retro and second-hand clothes by the kilo!
At DKK 250 per kilo you can take away four to six pieces. Friday from 15:00 to 19:00 and Saturday from 11:00 to 15:00. Entrance DKK 30.
More ideas below.
8.
Little Culture Night, a unique event for children will be taking place on 13 March 2020 from 16.00 to 21.00 with activities spread throughout the city. Read more about this event and how to get tickets in our article here.
9.
The wonderful ballet, Mahler, built entirely around the music of Mahler's 3, will be running at the Royal Opera house on selected days in March, starting on 14 March.
Created by the famous ballet choreographer, John Neumeier, the music accompanying the ballet dancers will be performed by the symphony orchestra, several choirs and of the course a mezzo soprano. The Royal Theatre, performed at the Opera, Ekvipagemestervej 10, 1438 Copenhagen.
The article continues below.
10.
On 17 March from 13:00 to 16:30 celebrate the Irish St. Patrick's Day and join in the Copenhagen St. Patrick's Day Parade 2020. Find the event schedule and parade route here.
11.
The 22 March 2020 for the first time ever, the Copenhagen Ice Swim is organised at Skovshoved Havn from 09:00, sign up to swim, and no, this year there will be no ice in the water, but at 5 degrees Celsius it will still feel ice cold! Or come and cheer those who dare take part. Sign up to swim here.
12.
If you are a yoga fan this event is for you. On 20 to 22 March,  The Yoga Games Copenhagen 2020 take place at DGI-byen in Copenhagen for the first time.
Originally started in Gothenburg, Sweden in 2011, it has since then grown to become one of the biggest yoga events in Scandinavia. Find a wide range of yoga styles, meditation sessions and inspiring talks with local and international teachers. More information here
More ideas below.
13.
Opening on 28 March, the M4 metro line will run from the new metro stations Orientkaj and Nordhavn to Østerport, Marmorkirken, Kongens Nytorv, Gammel Strand, Rådhuspladsen to Copenhagen Main Station. Read more about this new metro line in Copenhagen city here.
14.
Changeover to summertime in the night between 28 and 29 March, during the early morning of the 29 March at 02:00, remember to put your clocks one hour ahead in order not to get unpleasant surprises when you wake up.
15.
On 29 March the old-style bathing establishment, Sofiebadet, on Christianshavn in Copenhagen invites to a special family day, where adults and children can spend time in the hot tub, steam bath or the sauna and even cool down in the ice-cold bathtub.
Three admission times for two hours of exploration. Ticket price DKK 100 per adult and 50 per child. Sign up for tickets quickly here.