Will the next Danish Prime Minister be a Rasmussen again?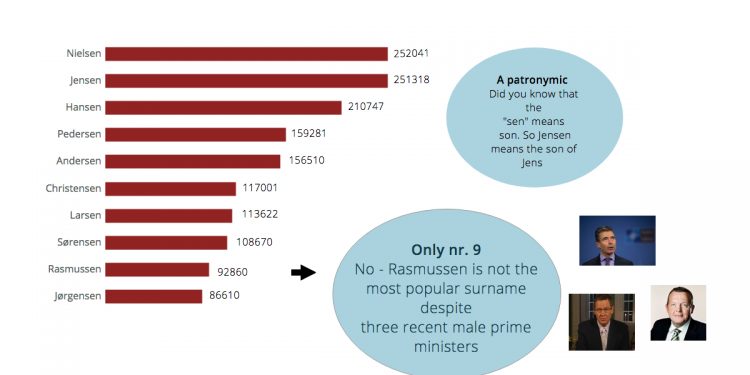 2019 is a general election year in Denmark, an election that must take place by June 2019. After three prime ministers with the name Rasmussen the last 25 years, you might think it is the most popular sen name here.
The article continues below
By Bente D. Knudsen  Infographic: Anette Brogaard Krarup
After living even only for a short while in Denmark, you have probably noticed that the sen ending is very common in many names.
It is a patronymic, a name derived from its bearers' father or ancestors. In Denmark sen thus means the son of.
But which sen name is the most popular here? You might think it is Ramussen?
The article continues below.
Denmark has had three prime ministers with the surname Rasmussen. Poul Nyrup Rasmussen, Anders Fogh Rasmussen, and Lars Løkke Rasmussen. Funnily enough, since 1993, the name Rasmussen has dominated the position as prime minister.
However, the name Rasmussen is only the 9th most common sen name in Denmark.
Nielsen, Jensen and Hansen are by far the most popular ones, with more than 200,000 Danes carrying that surname, whereas Rasmussen has just under 100,000.
The date for the next election has not been set yet, and there are speculations that it will take place sometime end of March 2019.
One thing is certain, Lars Løkke Rasmussen will seek to become prime minister again, however, the outcome will show if Rasmussen is again the dominant prime minister name.
Another sen contender is Frederiksen, as Mette Frederiksen, leader of Socialdemokratiet, is another candidate. And her name is not even amongst the 10 most popular sen names.
The article continues below.
Prime minister names since 1993:
Poul Nyrup Rasmussen from 1993 until 2001
Anders Fogh Rasmussen from 2001 until 2009
Lars Løkke Rasmussen from 2009 until 2011
Helle Thorning-Schmidt from 2011 until 2015
Lars Løkke Rasmussen from 2015 until 2019 (election year)