Wine and Dine review: Magical location along Copenhagen's harbour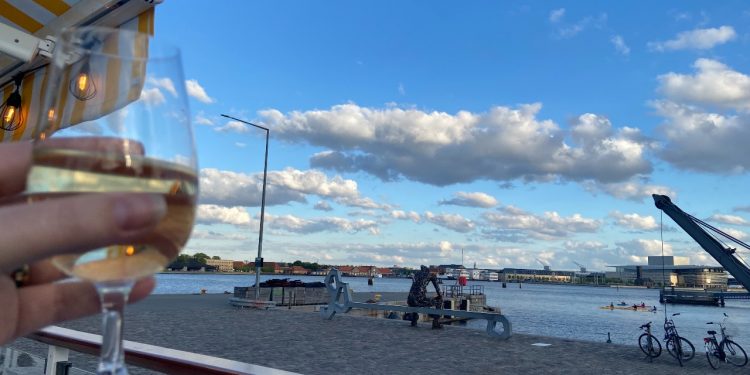 Newly revamped Seaside Toldboden opened a few weeks ago just in time for the summer season and certainly is worth a visit.
The article continues below.
By Susanne Kee                     Pictures: Sehrish Haq and Susanne Kee
If you ever visited the old pre covid-19 eatery at Toldboden, you will find that the new menu versions are quite different and reflect the upgrade which has taken place.
If you have never been, then Seaside Tobolden is the restaurant situated on the harbour front between Langelinie Park and the Royal Pavilions, a breath-taking and very popular location on a hot summer day.
The new restaurant features seven upscale food stalls, each run by noted Chefs, as well as a bar if you are one just for a good cocktail or cold beer.
The upscaled food court covers a variety of fare from all over the world and currently includes a Pan Asian Grill, stalls specializing in meats (one in raw preparation, one grilled), a cafe offering breakfast, sandwiches, and cheeses, a Greek stall, and multiple seafood stalls.
If you are curious about their backgrounds, you can find both the menus and the chefs' bios available for perusal at https://toldboden.com/.
Book a table for inside if you prefer to be protected from the variable Danish weather, however outside on the deck is quite comfortable with umbrellas and heaters.
Your reservation holds the table for three hours. Upon making a reservation, you can select your preference for inside or outside dining.
The article continues below.
Inside the restaurant there is an open floor plan with clear views of the staff preparing food in their individual food stalls. The inside is spacious and casually upscale, but with the warm weather, you cannot match the fabulous harbour views from the deck.
Once seated, your server will explain the concept, take your drink order and serve your drinks.
They also provide you with a menu. The food ordering and pick up is between you, your phone, and the individual kitchen.
Ordering is done by phone-scanning a QR code, selecting your dishes, entering your contact information, and paying, all on a user-friendly website.
There is also the option of walking up to order at the kitchens themselves. With either option, you will receive a text when your food is ready for pick up.
The food we had was varied and incredibly good. Everything seemed of excellent quality. Portion sizes vary as some dishes are meant to be an entree and some are small plates. The whole concept allows for sampling of a range of dishes from multiple stalls making it easy to please many palates.
Opening Hours:
Kitchen/Bar: 11.00 – 22.00
Lunch menu from 11.00 – 15.00
Logismose: 10.00-22.00
Additional Information/Menus/Reservations here.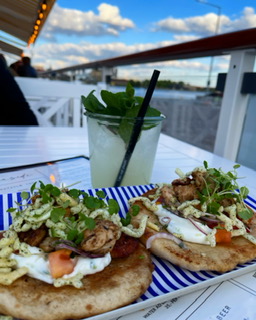 Support our magazine with a contribution of any size
We hope that you enjoy the information, insights and inspiration that we provide. We are a small team and we would like to keep delivering high quality, interesting articles for you to enjoy and your support will help Your Danish Life to continue to produce relevant content for expats in Denmark.
We do not want to put up a pay-wall, so we need your support and if you find our content relevant and worthwhile, we would value any contribution, however big or small, as a token of your appreciation of our efforts.
How to support:
Transfer any contribution to our bank account at: Your Danish Life/ Danish Expat Media Aps
Danske Bank Account number: 3409 11405673
IBAN: DK68 3000 0011 4056 73
or MobilePay to 2144 1224
Message: Support