Your Danish Life – Spring/Summer 2016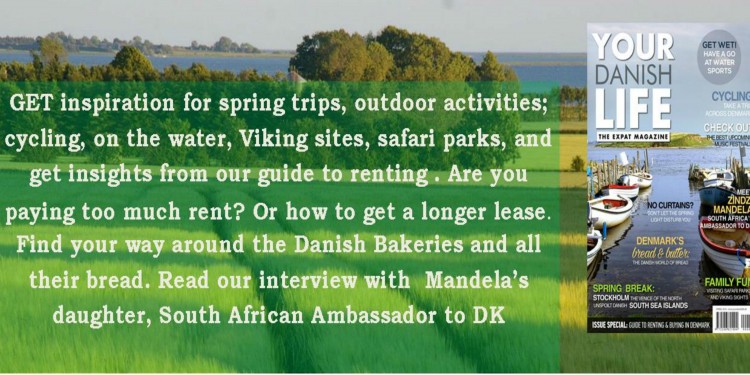 In our current issue SPRING/SUMMER  – find ideas and tips for spring breaks and great leisure activities. Click here to preview
Get insights into RENTING and buying property in our 12 page GUIDE where we have done our best to cover the issues, which have the greatest impact on expats looking for a home here.
In our unique interview MEET MANDELA'S daughter Zindzi – and read about her transition from guerrilla to South Africa's Ambassador to Denmark
READ ALSO:
•Are you disturbed by the spring light? Get our best tips on where to buy modern and fashionable ready-made curtains and blinds
•Do you feel a bit lost when entering a Danish bakery? In our article "The Danes and their bread" we guide you through the amazing world of Danish bread.
•Get wet this spring! Have a go at water sports – inspiration, tips and ideas on how to find a water sport activity for you.
•Can I lose my driver's licence if I hit a bicycle? Find out more in our article "Bicycles, cars and the traffic regulations"
•Cycling in Denmark is great – but where to go? Get ideas and tips on how to plan your next cycling trip
•Travelling:
Insider's tips to Stockholm – spend a weekend in the capital of Scandinavia this spring
Unspoilt – Danish South Sea Islands -be dazzled by the beauty of the archipelago islands of south Funen Ærø, Tåsinge and Langeland.
•Danish Design – who was  Wegner, the King of Chairs, and what made his designs transcend time?