Crown Prince family take up residence at Amalienborg Palace after spending the summer at Fredensborg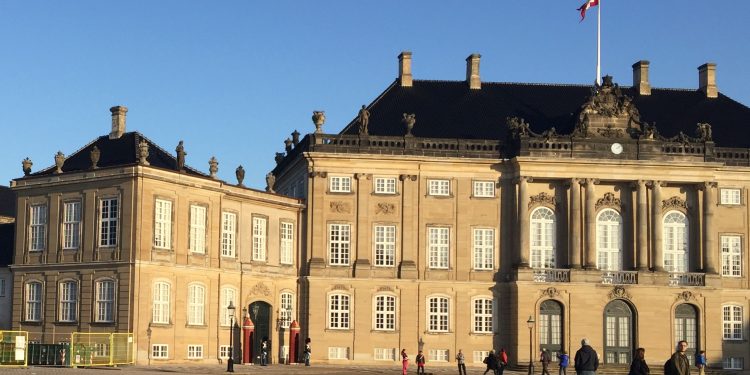 Crown Prince Frederik, Crown Princess Mary and their four children have again this autumn taken up residence at their "cold season" home Frederik VIII's Palace at Amalienborg.
The article continues below.
By Bente D. Knudsen
The Danish Crown Prince family has moved back to Copenhagen after spending the summer season at their summer home at Fredenborg Castle.
From the flagpost at the top of their palace at Amalienborg, the Crown Prince's flag is flying again and residents in the area may find one or the other walking their dog at Kastellet, running or riding a bicycle.
Many a resident or tourist for that matter in the area have seen a royal arriving in relaxed sporty attire with their own house key.
Fredensborg, the summer season home:
Here both the  Danish Queen and the Crown Prince Family take up residence during the warm season.
The Crown Prince family takes up residence at Kancellihuset. The house was built in 1731 and lies  adjacent to the main castle. It was the home of Crown Prince Frederik's grandmother, Queen Ingrid, for many years.
In 2004, Kancellihuset was extensively renovated and became the first home of Crown Prince Frederik and Crown Princess Mary until 2010, when they moved into their palace at Amalienborg.
Kancellihuset has its own large private garden with swimming pool, an outdoor riding area was added two years ago to Fredensborg Castle's outdoor facilities enabling the family to continue with their riding activities.
The house was the first home of Prince Christian and Princess Isabella.
Since 2010, the crown prince family have had their main residence at Amalienborg Palace, in the one called Frederik VIII, but for the past three years they have again taken up residence at Kancellihuset at Fredensborg during the summer season.
Danish Queen Margrethe is still at Fredensborg, her favourite home and she only returns later during the autumn to Amalienborg Palace. Read more about  Fredensborg here.
The article continues below.
Despite the royal presence, the park remains open to the public and  the church is open for Sunday service to the citizens of Fredensborg.
Support our magazine with a contribution of any size
We hope that you enjoy the information, insights and inspiration that we provide. We are a small team and we would like to keep delivering high quality, interesting articles for you to enjoy and your support will help Your Danish Life to continue to produce relevant content for expats in Denmark.
We do not want to put up a pay-wall, so we need your support and if you find our content relevant and worthwhile, we would value any contribution, however big or small, as a token of your appreciation of our efforts.
How to support:
Transfer any contribution to our bank account at: Your Danish Life/ Danish Expat Media Aps
Danske Bank Account number: 3409 11405673
IBAN: DK68 3000 0011 4056 73
or MobilePay to 2144 1224
Message: Support