Tulips, the must have winter treat to brighten your home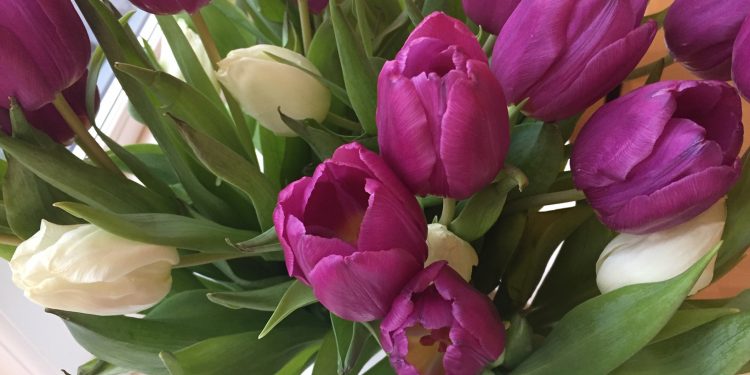 Despite the cold outside, cut tulips are in season; a good tip to help you endure the grey clouds and short days.
The article continues below.
Pictures and text: Bente D. Knudsen
The Danish winter weather forecast is not very uplifting; there seems to be a constant alternation between sunny and cold days with grey much less sunny days in store .
A short input of cold from the north will be relieved by a western of low-pressure system which will bring more of the greyish weather with rain and some wind.
You might be feeling the effects of the general lack of sun, topped with an ongoing epidemic, on your state of mind,
Apart from the vitamin D, daylight lamp and added C-vitamin breaks, why not stock up on tulips?
They are in season in most grocery stores and flower shops, and depending on where you shop, they come in affordable price ranges, often on offer: 2  bundles for DKK 100, or even 3 bundles for DKK 120.
Tulips come in a wide selection of colours, so why not mix and match, or select a colourful vase to go with the white ones?
Find out how to make your cut tulips last longer below.
Important tips for cut tulips to make them last longer:
When you bring them home, keep them wrapped in their original packaging and place them in lukewarm water for 30 to 45 minutes, or even a bit longer before arranging them in your vase.
They need to acclimatise to the room temperature before being finally unwrapped, given a new cut and placed in a vase.
By doing this they will last longer and open beautifully for you to enjoy.
Place them on the window sill so that you are looking at colourful flowers rather than the grey outside!
Most of the cut tulips found in Denmark originate from Holland, the world's largest tulip producer.
The article continues below.
A few tulip facts:
Tulips were originally cultivated in the Ottoman Empire and were imported to Holland in the 16th century.
The Botanist Carolus Clusius first planted them in Dutch soil in 1593.
Tulips require well-drained, moist soil to bloom, and Carolus Clusius quickly realised that they could thrive in the cool and humid Dutch climate. This was the beginning of a prosperous flower industry, and farmers began to turn the lowland fields into the now iconic colourful flower display.
During the Dutch Golden age in the mid-17th century, the popularity of tulips led to the first economic bubble, known as "Tulip Mania". As people began to buy thousands of tulip bulbs, prices rapidly escalated and they became a form of currency, which later lead to a serious economic crisis.
75 percent of the world's flower bulb production comes from the Netherlands, who produce as many as four billion bulbs annually. Today, horticulture accounts for 39 percent of Dutch agricultural production.
Over half of the tulips grown in The Netherlands are grown into cut flowers. FloraHolland is the largest flower auction in the world and more than 20 million flowers and plants are sold every day at its six locations in the Netherlands.
In the spring, you will find tulips everywhere, with numerous events and locations where you can enjoy them.
Find inspiration in our travel article here. The Netherlands are within a 10-hour driving distance from Denmark and could be nice excursion in the spring or during one of the numerous long weeknds due to the bank holidays in May and June.